2018 Golden Haggis Awards
Sunday, 25th Nov 2018
Haggis makers from all over Scotland, from Dingwall in the north to Dumfries in the south met the added challenge of a haggis from Cumbria.

The judges - international meat industry judge Keith Fisher from the Worshipful Company of Butchers, chef/forager Gary Goldie of WildFood and Visit Scotland food writer Neil Robertson decided which would be the winner of this year's Golden Haggis title. The public attending Haggisfest voted for their People's Choice. Results are below.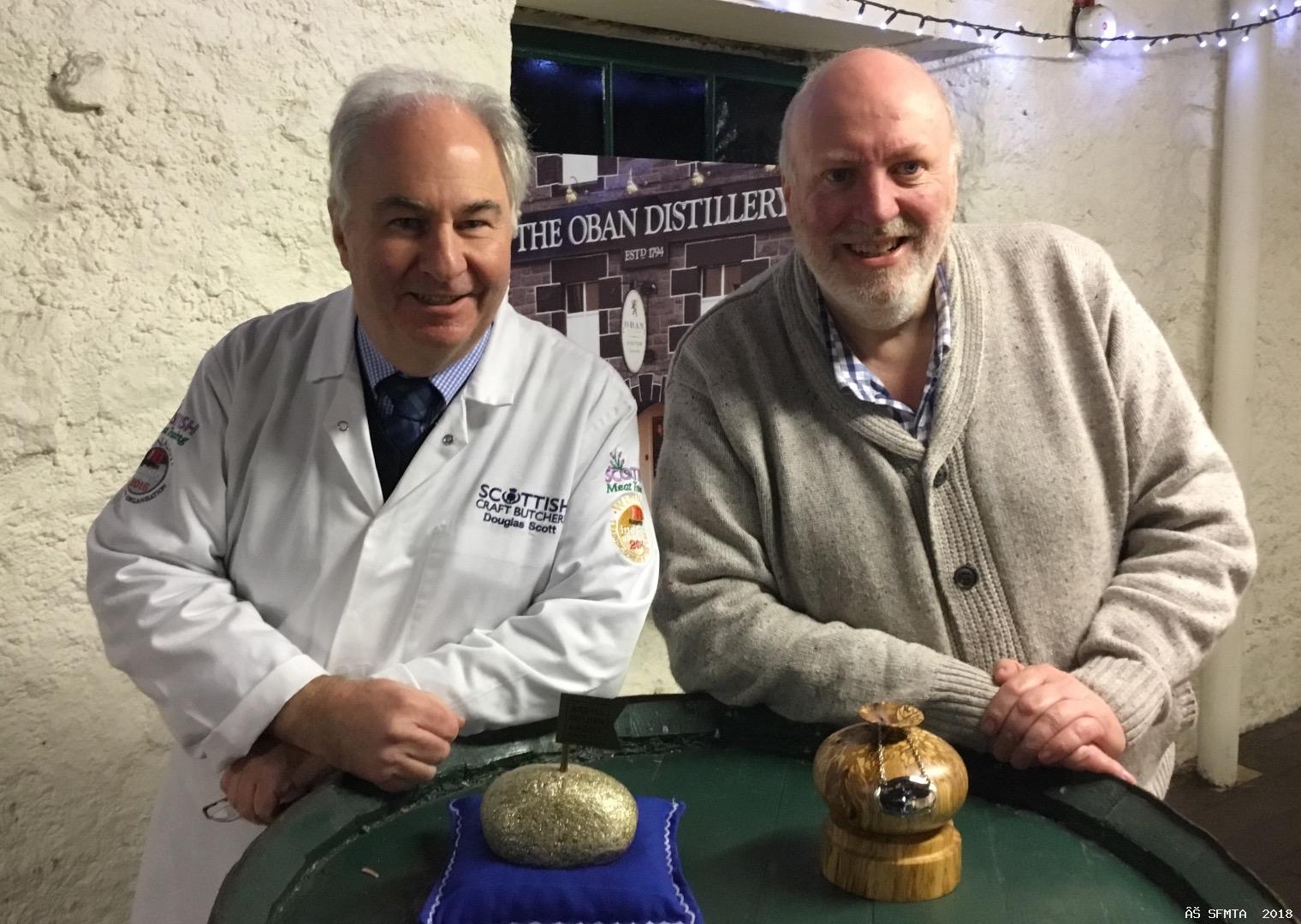 Above: John Akroid (right) from McCaskies with the trophy and Douglas Scott

The winner of the 2018 Golden Haggis Award was McCaskies of Wemyss Bay.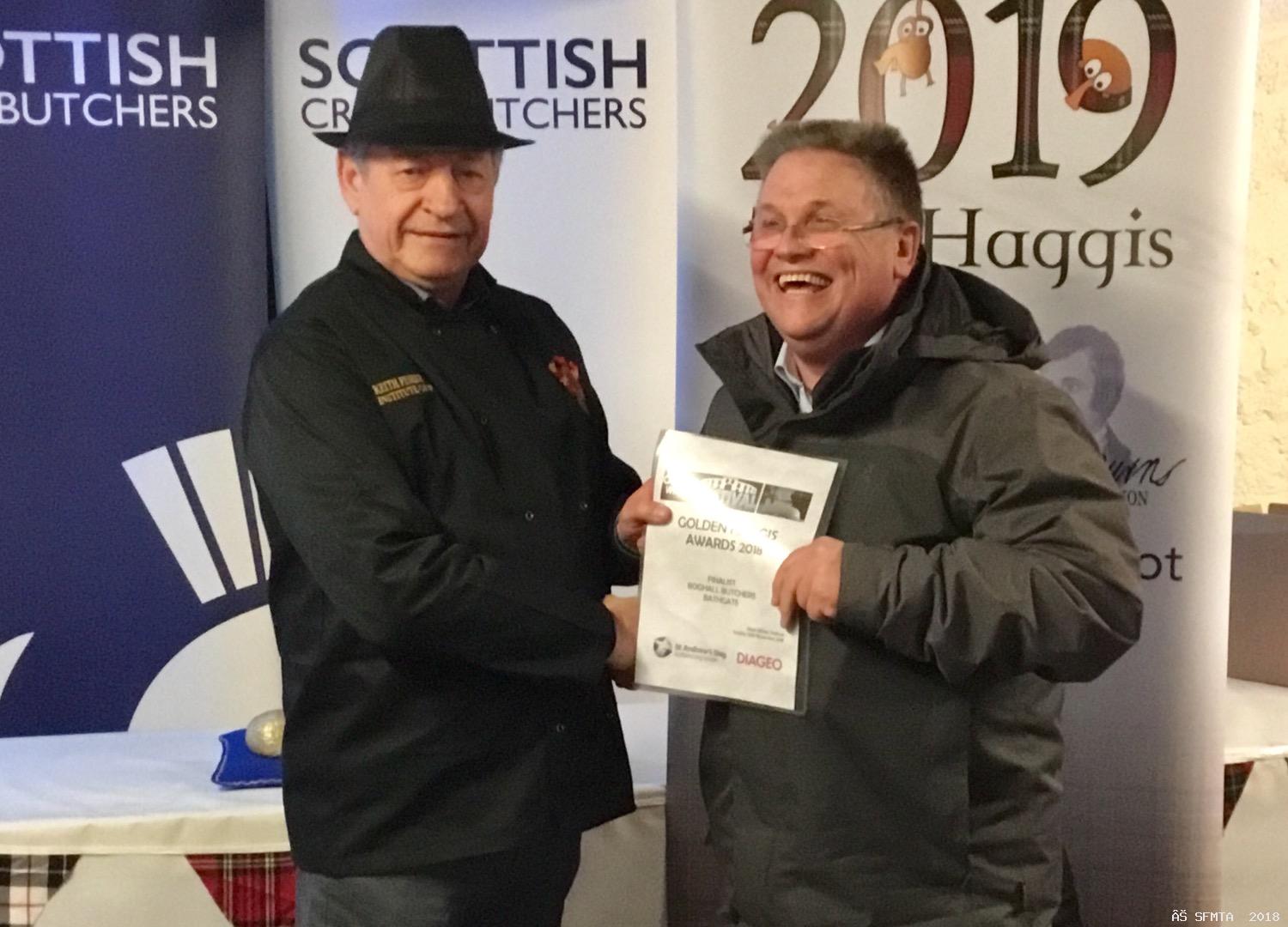 Others recognised in the Golden Haggis Awards were:-
Runner Up: John M Munro, Dingwall
Runner Up: Crombie's of Edinburgh
Finalist: Boghall Butchers, Bathgate (pictured above)
Finalist: JB Houston, Dumfries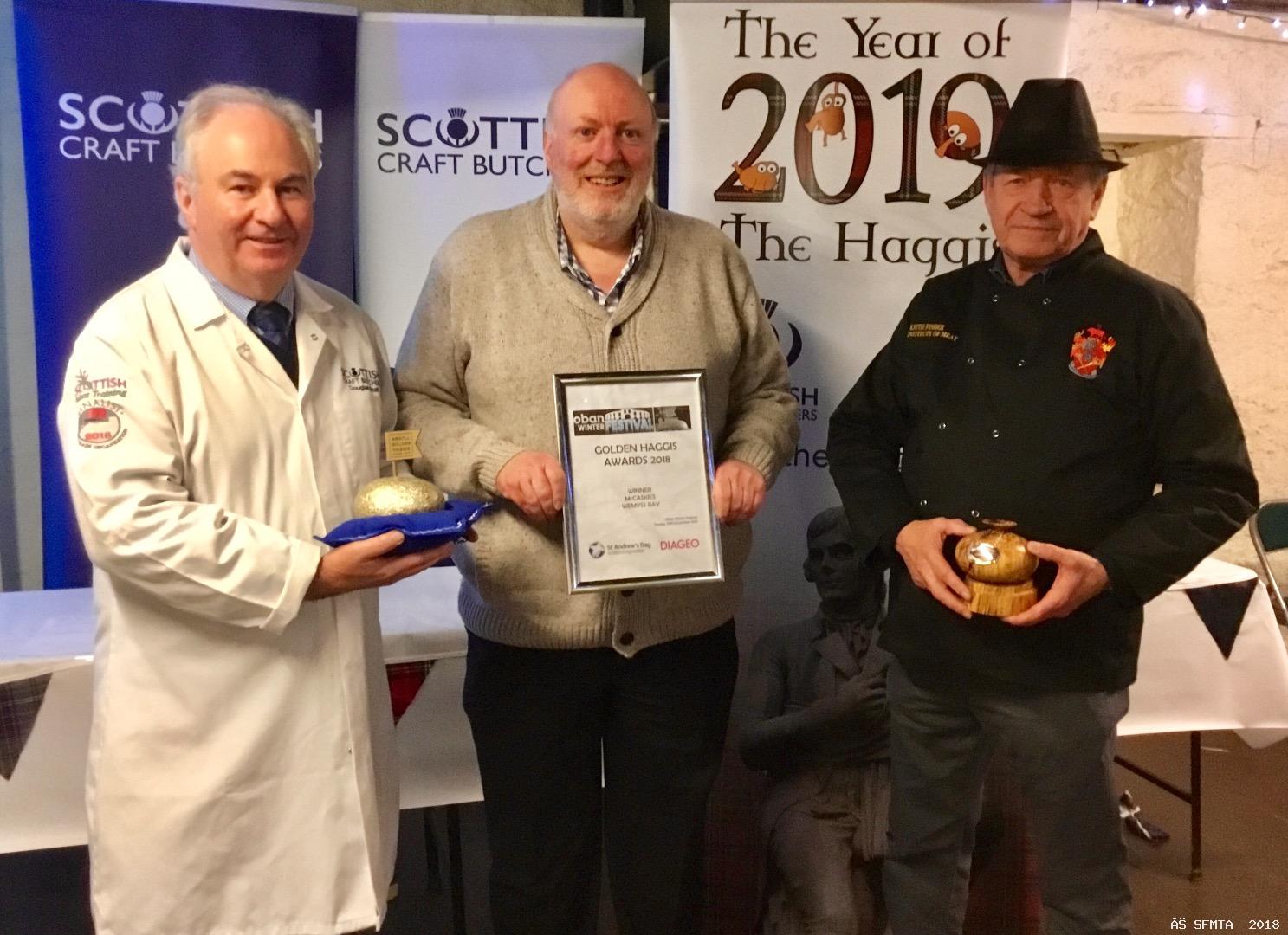 Above: John Akroid from McCaskies is presented with both trophies by Douglas Scott and Keith Fisher.

The winner of the People's Choice at the Golden Haggis Awards was also McCaskies of Wemyss Bay (no.8)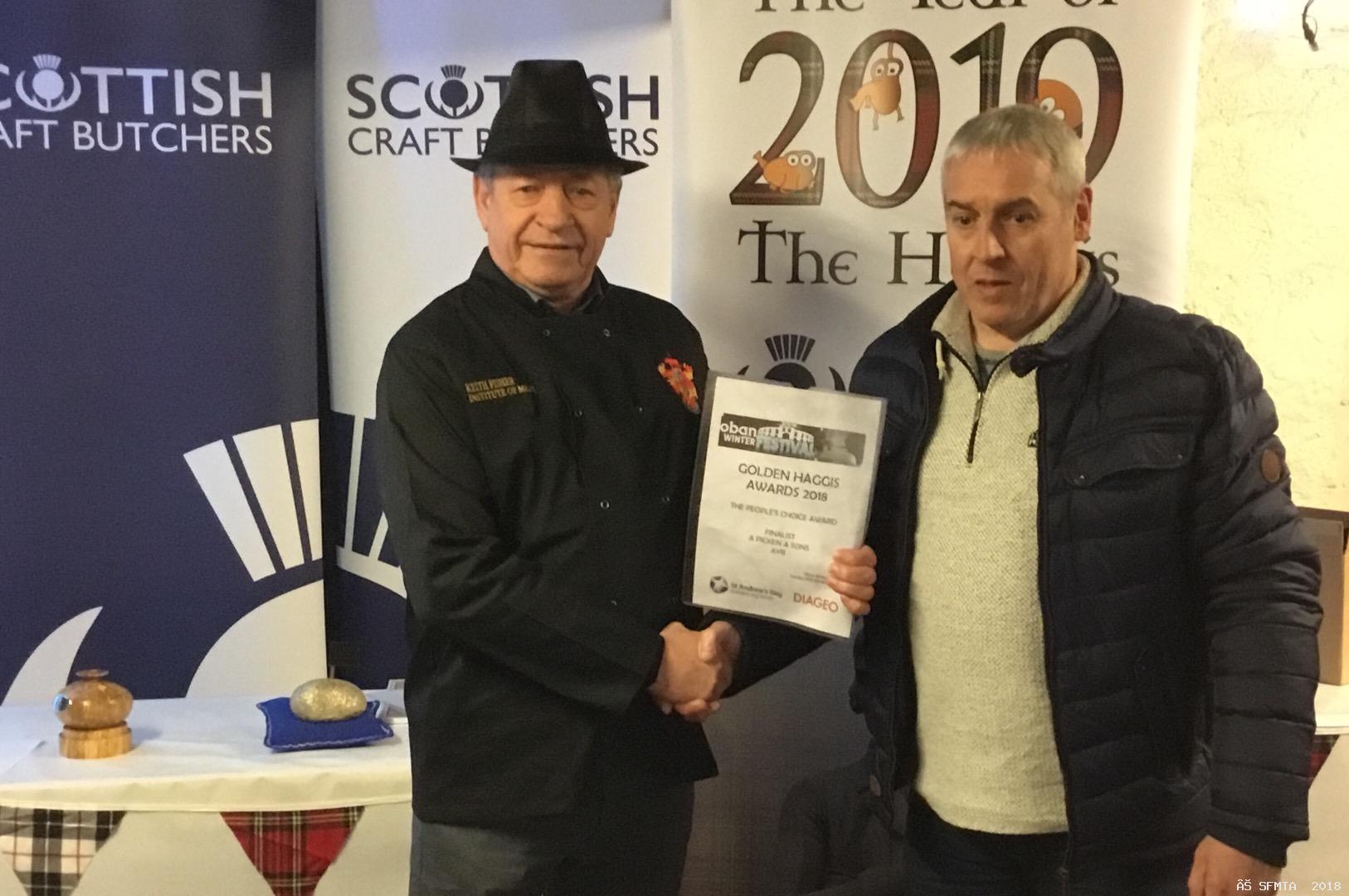 Runners up in the People's Choice were:-
Anderson Quality Butchers, North Berwick (no.1)
Finalst: JB Houston, Dumfries (no.6)
Finalist: A Picken & Sons, Ayr (no.11) (pictured above)
Finalist: Hugh Black & Sons, Lanark (no.14)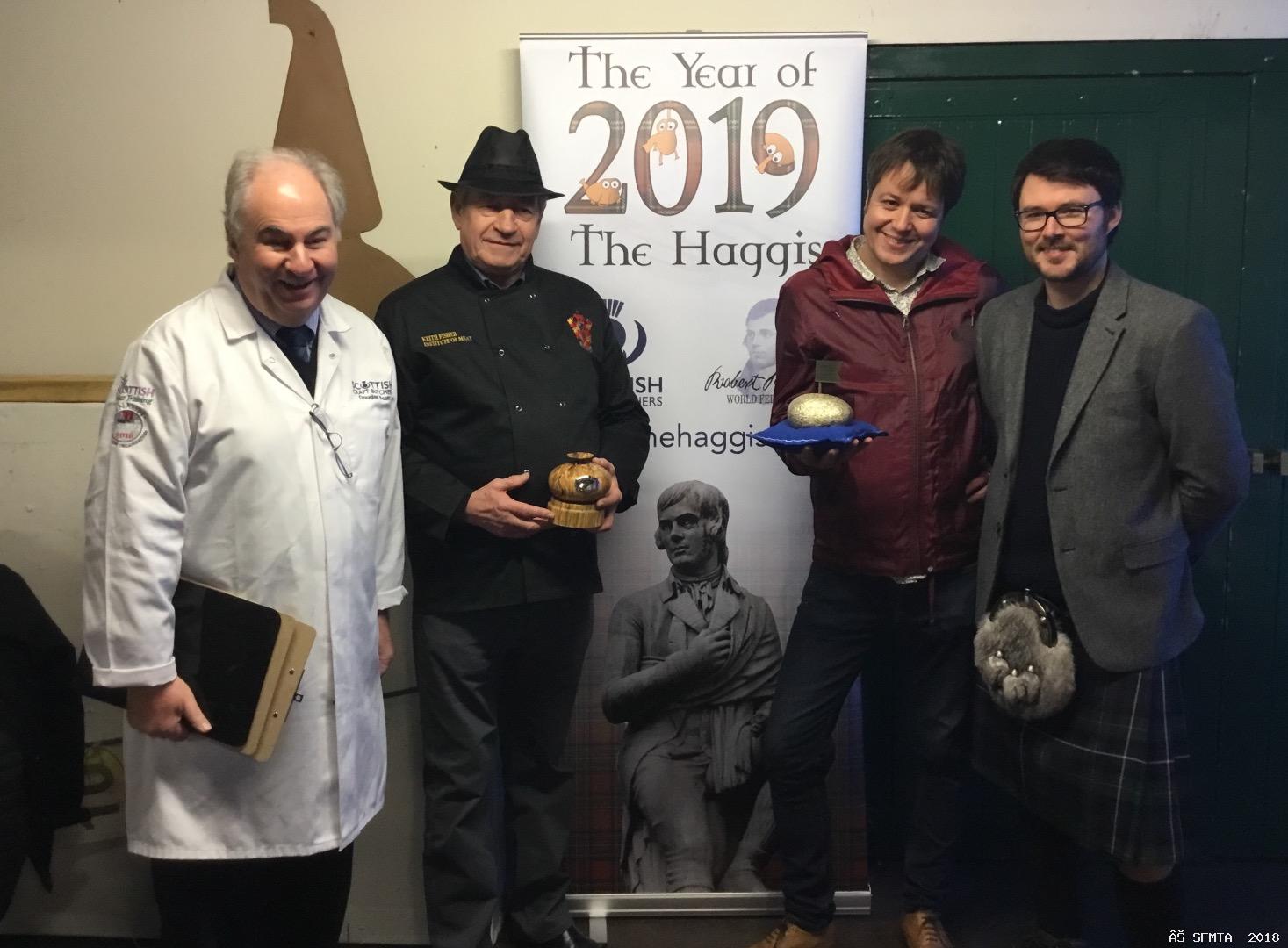 What the judges said:-

"A worthy winner, very well balanced, excellent texture, just the right amounts net of pepperiness to the flavour. Looks fantastic both raw and cooked. Very very good laying field but that was a stand out to me "
Neil Robertson

"It had a lovely balance, it wasn't strong with offal. It had a nice texture as well I could just imagine it with neeps and tatties."
Gary Goldie

"It was a fantastic array of products that we have tried today. Out of all of them the texture has been great, the palatability has been great. The one that has won is one that I would sit down and have for a complete meal that is the I,portmanteaus thing when you are judging a lot of products."
Keith Fisher

Related Stories


views: 4,336