Year of the Haggis announced
Friday, 7th Sep 2018

On Friday 7th September the President of the Robert Burns Federation announced to his annual conference in Irvine that 2019 will be a very special year.

The Scottish Federation of Meat Traders (SFMTA) is delighted to share this initiative with the Robert Burns World Federation. SFMTA President Paul Boyle addressed the conference saying:-

"Without the Robert Burns World Federation`s endorsement we would be just another meat promotion but the backing of such a revered organisation as yours adds formality in designating next year to be officially the Year of the Haggis.

"Scotland's butchers are eternally grateful that Robert Burns enjoyed so much the haggis that he was served in Edinburgh, that he wrote an address to it.

"I do not know how long it took after it was first published in the Caledonian Mercury on 20 December 1786, to boost sales of haggis, but haggis is now very important product for Scottish Butchers.

"Scotland's national dish is often seen as a challenge to those who have never tasted it. The ingredients are exaggerated to fill the foreigner with fear but the mix of meat, oatmeal, onion, stock and seasoning is to be enjoyed.

- - murdo_morrison_070918.m4a
- - president_rbwf_ian_mcintyre.m4a
"Yes the meat is sheep offal - heart, lung and liver - but that is nothing needs to be avoided. Lambs Liver is considered a delicacy, liver and heart are exceptionally nutritious. Lungs are rich in vitamin B12 and iron. There is no tripe or thairm in haggis. The tripe, or stomach of a sheep, would in the past, have been used as the casing but thairm is gut and would only have been used for sausage skins.

"Good Scottish oatmeal and the finest pepper and spices all combine to create a tasty national dish to be proud of.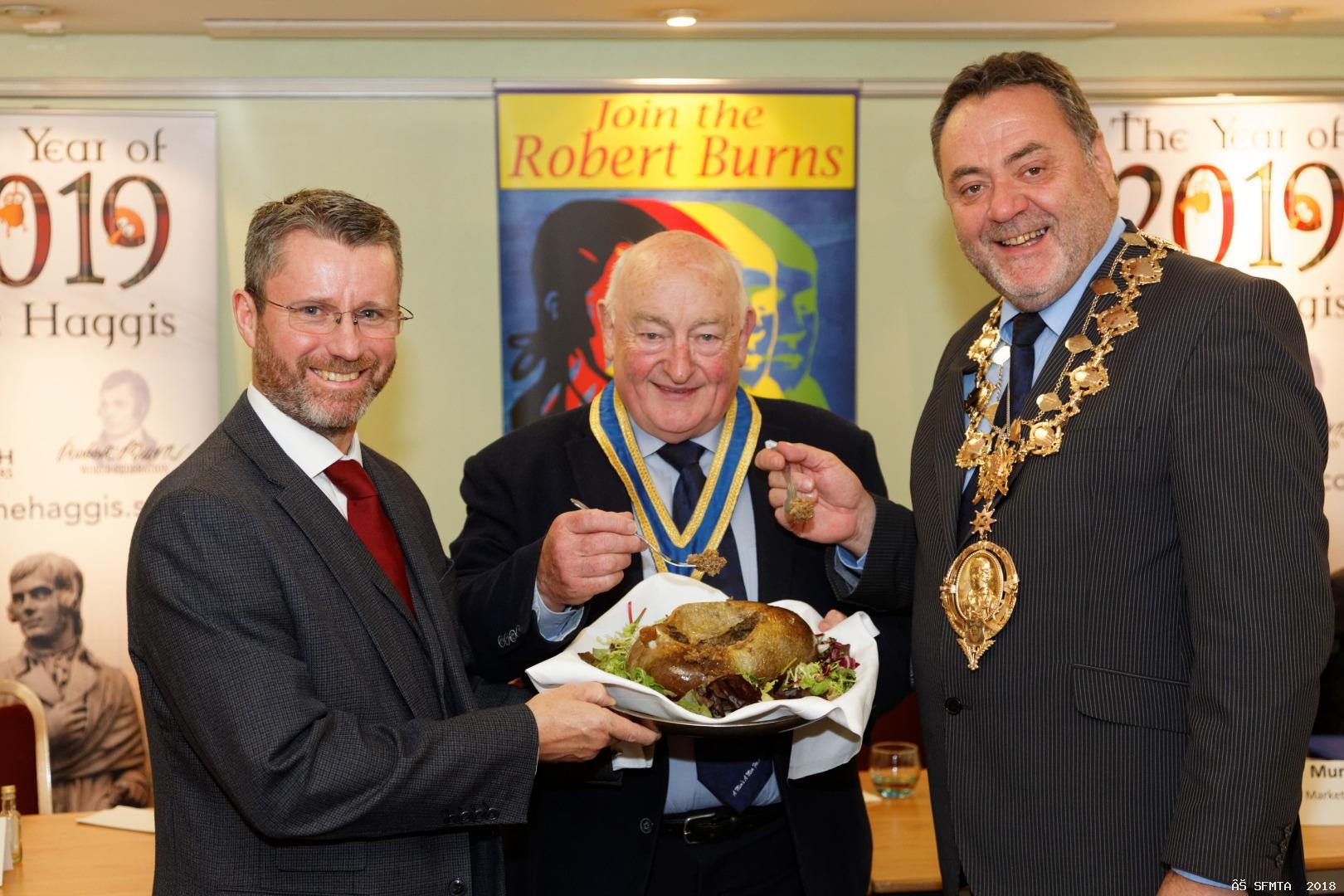 "We sell haggis in all shapes and forms - puddings, balls and sliced. We make a great many products with haggis - chicken balmoral, haggis pakoras and even haggis samosas. I make a Balmoral Round - chicken, haggis, sauce in a pastry - and butchers make all sorts of pies with the subtle addition of haggis.

"We hope that in 2019 we can promote the product in the Year of the Haggis. This will enhance the awareness of the product, encourage butchers and chefs to make more products from haggis and hopefully have lots of new people repeating the words of Robert Burns while addressing the haggis."

Paul Boyle closed with a commendation to all political parties for or against Brexit - who are looking for support in Scotland, of this advice from Burns about Haggis and Scotland:-
 
Ye Pow`rs, wha mak mankind your care,
And dish them out their bill o fare,
Auld Scotland wants nae skinking ware
That jaups in luggies:
But, if ye wish her gratefu prayer,
Gie her a Haggis

Murdo Morrison, the Marketing Convenor of the RBWF told his members how the Year of the Haggis would be included in the events that his Federation will be holding throughout 2019.

SFMTA Chief Executive Douglas Scott outlined what is planned for the Year of the Haggis.

Potential Activity during The Year of The Haggis

September 2018 - Launch
November 2018 - Include in point of sale material for St Andrews Night
Hogmanay 2018 - Celebrate with a Haggis
January 2019 - Make it with Haggis Product Evaulation
January 2019 - Special Burns Night materials
February 2019 - Red Red Rose Valentine
May 2019 - Scottish Haggis Championship in Perth
November 2019 - Golden Haggis Awards in Oban

More ideas will be worked up during 2019 with possible link to Highland Games and Rugby World Cup.


Related Stories


views: 2,336