UK YOUNG BUTCHER OF THE YEAR 2009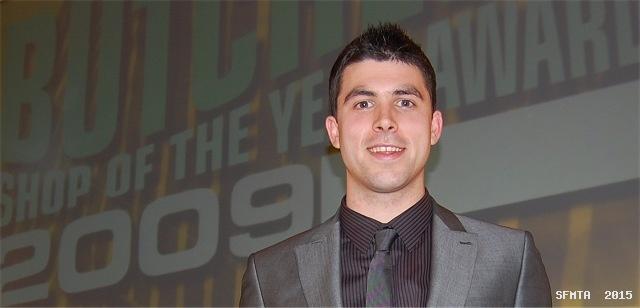 Midway through his Higher Maths exam Stewart McClymont realised it was time to follow his passion and start full time in his local butchers shop. Dunblane High School may have lost a pupil as he downed pen, walked out and immediately got his leavers form but the High School's loss was the meat industry's gain.

Stewart went on to win the 2007 Scottish Vocational Qualification Candidate of the Year in his sector and this week has picked up the major prize in being named Meat Trades Journal Young Butcher of the Year.

Entrants were particularly strong this year, but when the three finalists were announced they all came from Scotland. Stewart McClymont of David Bennett & Son was up against Selkirk's Grant McClusky and Huntly's Gary Raeburn.

Ed Bedington, Editor of the Meat Trades Journal said in presenting the Young Butcher of the Year Award:-

"If the three young finalists here are anything to go by the future of our industry is in safe hands. All three are superb examples of first rate young butchers, I only wish we had three top awards to give out."

There could only be one winner, however, and judges decided that Stewart deserved the top prize. Announcing the winner, judge Bill Jermey of Meat Training Council described the 22 year old as "a real role model for the industry."

Stewart's first reaction was surprise and shock but once it sunk in, he was absolutely delighted and after the ceremony at London Sheraton's Park Lane Hotel said:-

"I just enjoyed meeting everyone. UK Young Butcher of the Year sounds a bit surreal but I am immensely proud of the achievement. I have not really entered too many competitions, the other two finalists had and Grant has gone on to start up his own business. I didn't expect to win given the high calibre of the other finalists, I was just happy to be in the final."

Stewart was a 14 year old schoolboy when he first started work in Bennetts in Dunblane.
"I was doing a paper round at the time and my dad saw the sign in the shop window. The shop had just changed hands and I got the after school job. I worked all school holidays because I enjoyed it."





Eight years on Stewart is a huge part of the character of the shop. Extremely popular with the customers he takes his work very seriously but enjoys having a bit of fun. "I enjoy my work because I am able to be myself."

Success is a result of the tremendous support Stewart has been given by his boss Graham Fleming and fellow work colleagues. He was quick to acknowledge their role:-

"They have shown trust in me to enable me to take on a lot of responsibility in the shop from a very early age. Everything to do with butchery I have learned from people in the shop. I have been taught the old school way from the beginning - work hard and the benefits will come. That's now proven to be right."

Having grown into an indispensable member of the team and a huge assets to the business, Stewart was further praised by Bedlington:-

"As an industry we need to champion these guys to show an example to other young people to highlight just what can to got out of a career in the butchery industry."

Certainly Stewart has proven the meat industry as a vibrant, exciting positive sector to work in. Higher Maths or not its all adding up now for Dunblane's new hero.





views: 2,798