UK YOUNG BUTCHER OF THE YEAR 2008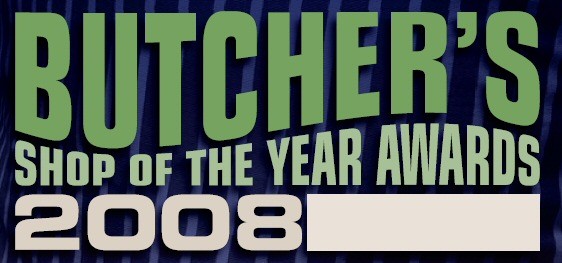 The other Scottish finalists were Stephanie Craig from Pauls Quality Butchers and Gary Raeburn & Sons. Ed Bedington, Editor of the Meat Trades Journal said in presenting the awards:-

"We need energise those in the trade and encourage new blood in and these awards give us a platform to do just that. I want you all to go out and shout about your success.Let people know what makes you the best businesses in the country.

"There is a lot of worry about recruitment - getting young people into the business. It is a real concern and there are businesses up and down the country wrestle with the problem.

"However, this year has seen a big jump in the number of entries for our Young Butcher of the Year award and has resulted in some outstanding candidates in the final. As an industry we all need to work hard to show to young people that coming into the trade is a great opportunity. Looking at the young finalists here today they all clearly see these opportunities. Hope is certainly not lost."
Young Butcher of the Year - Winner

Alan Elliot left his home in Northern Irelandat the tender age of 19 to set up his own business in Dalbeattie in the South of Scotland.

Five years later his business is a success and he has yet to take a holiday. Despite his initial inexperience Alan has gone on to make his business a resounding success and has great plans for the future.

His fearful approach since leaving Northern Ireland to set up business in Scotland with little or no support when just 19 years of age, is remarkable in itself. To turn that business such a success and to establish himself as a force to be reckoned on the butchery scene in just five years is nothing short of astonishing.

"I was up against the best in the UK and to win it is unbelievable to receive such a prestigious award. My heart was pounding because I didn't expect it."

Awards tend to be bestowed on Alan with regularity. Commenting on his latest he is just determined to make the most of it. Some might call it the kind of fortune that some attach to his fellow countrymen but Alan distinctly rules that out.

"It's certainly not luck. Luck has to be a part of it surely but you only get out of something what you put into it. I put a lot of work and a lot of hours into the shop. We are doing work to the shop at present and will hopefully have our EC approval within a couple of weeks which will allow me to wholesale."

Coming from another country coupled with such diligence made an impact with the judges but he thought his enterprise at such a young age was what had most impressed the judges.

"I think the sheer fact that I started so young, not just kept the shop solvent but to have more than doubled the turnover of it in the space of four years."

"I have worked on all my products. Tried them out on people in the shop and then when I come to what I am happy with, I stick to it."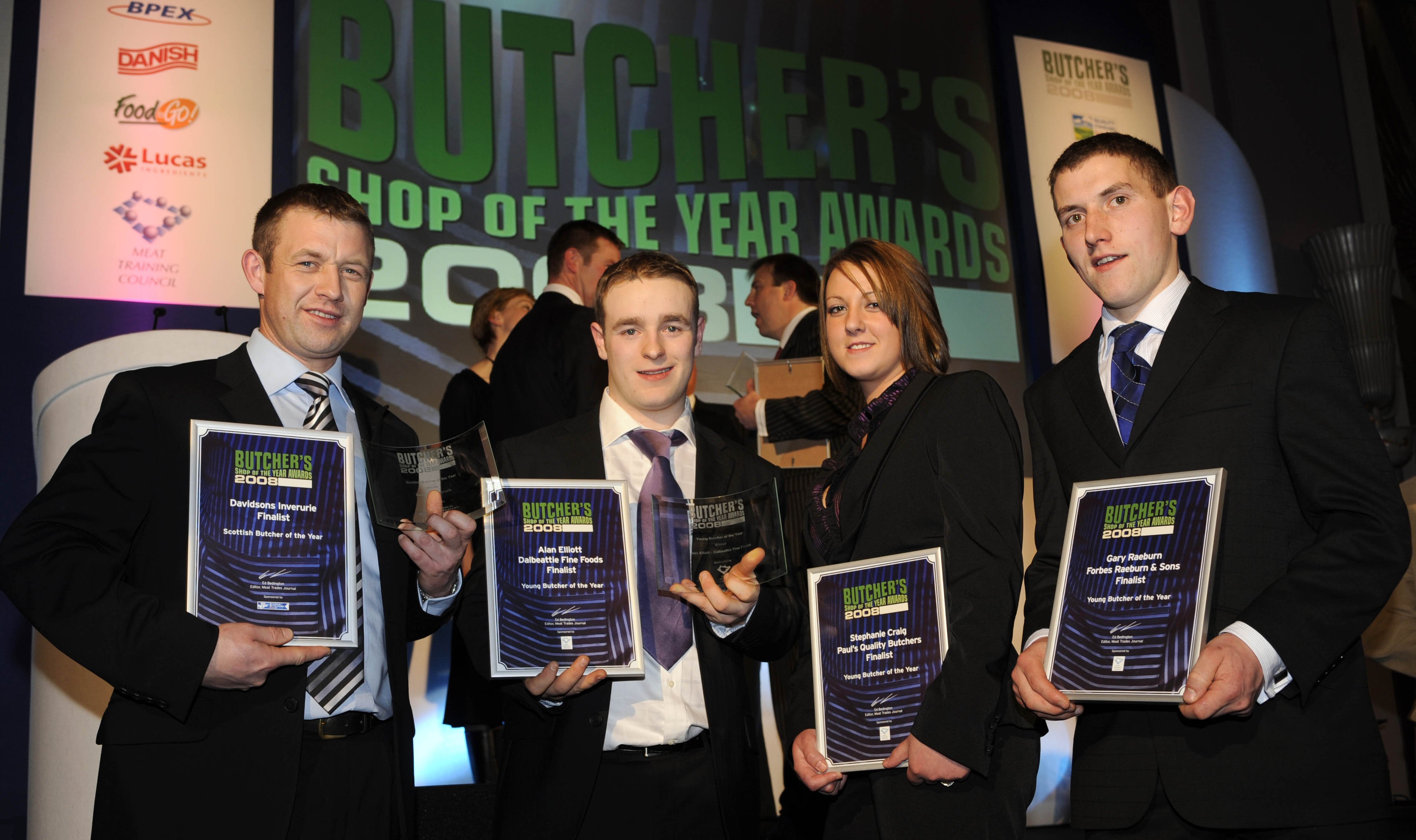 Winners at the 2008 Butchers Shop of the Year Awards held in the Sheraton Park Lane Hotel, London on Tuesday 18th November 2008
Left to Right: John Davidson (Inverurie), Scottish Butchers Shop of the Year
Alan Elliot (Dalbeattie Fine Foods) Winner UK Young Butcher of the Year
Stephanie Craig (Bonnybridge), Finalist UK Young Butcher of the Year
Gary Raeburn (Huntly), Finalist UK Young Butcher of the Year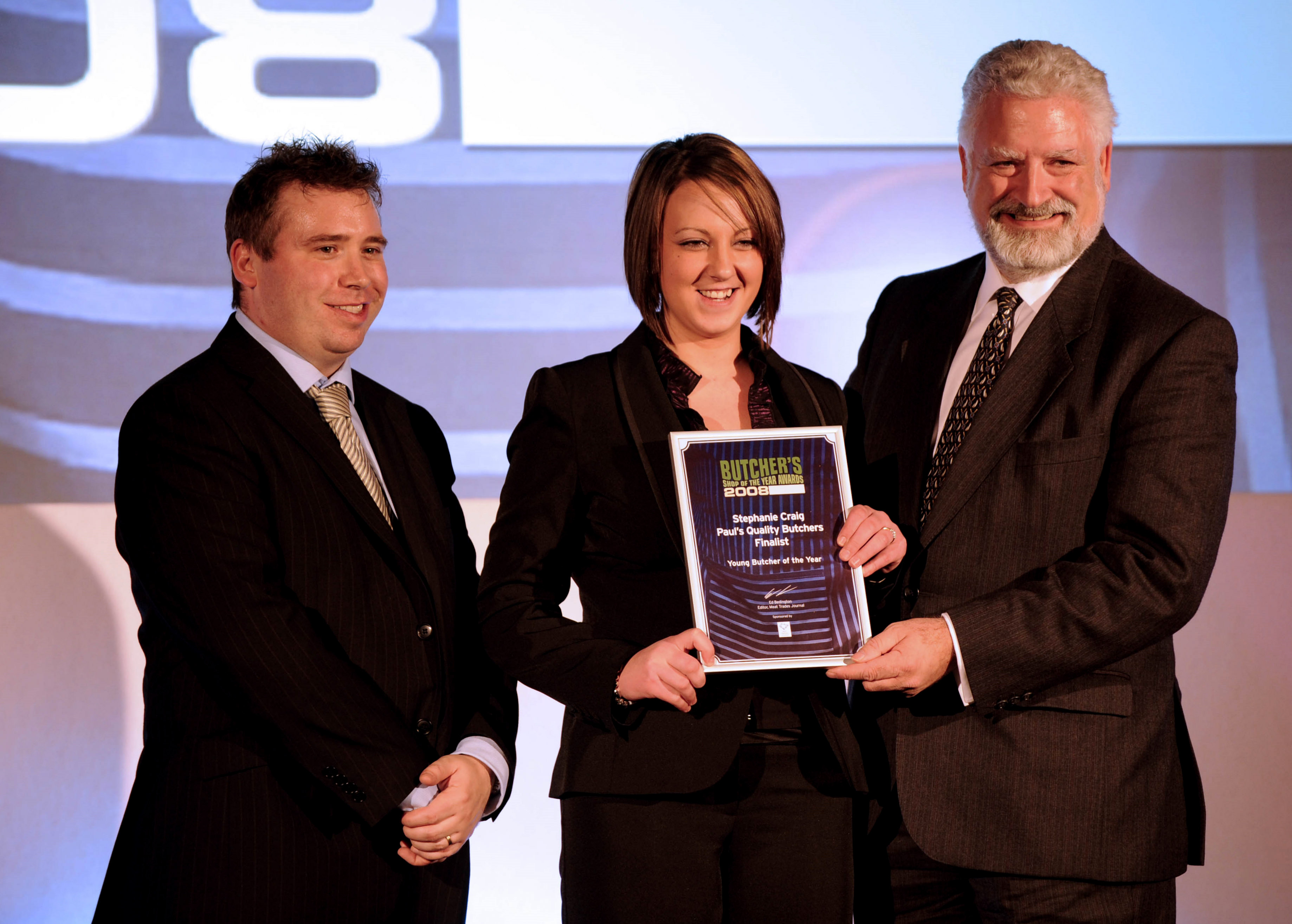 Young Butcher of the Year- Finalist

Stephanie Craig of Pauls Quality Butchers in Bonnybridge, made the trip to London on Tuesday 18th November as one of the top five in the National Young Butcher of the Year competition.

The nineteen year old from Cumbernauld received her accolade in the glitzy presentation lunch held in the Sheraton Park Lane Hotel in Piccadilly.

Stephanie turned her back on a career in reflexology after picking up the butchery bug while helping out her dad at Christmas time. She quickly proved her worth and now manages an outlet of Pauls Quality Butchers in Bonnybridge.

Speaking after the ceremony Stephanie's boss Paul Conway, himself a winner of the Scottish Butchers Shop of the Year at last year's awards, explained how the youngster had started out helping at Christmas and then as a Saturday girl.

"Her father was the manager of my Kilsyth shop was very interested. Although still very young she did not feel that she had a place within the butchers because she was just serving. But I believed in her, I could see that she had a passion and inner belief that she could definitely do more than just serve the counter.

"Her skills for displays are probably the best within the company. She has an eye for perfection – all the sirloins are plated perfectly, nothing is slap and dash."

Pauls Quality Butchers operate shops in Kilsyth and Grangemouth as well as the Bonnybridge shop where Stephanie is now the manageress.

"The fact that when a 55 year old man with a vast amount of experience who was running the shop left through ill health, Stephanie took over the reins. She has improved the shop leaps and bounds. We have a staff of 30 in Pauls Quality Butchers, a lot of them are young, a lot are male but by giving her the title of manager of a shop that is doing very well, obviously opened the field for all the youngsters to realise that young and gender is not going to matter in the company.

"A lot of women have risen to the challenge saying 'we can make it within the company'. Ultimately Stephanie buys into the Pauls Quality Butchers ethos – it is not just about Stephanie – it's about Pauls Quality Butchers. If I can get more of that in the company it will stand it in good stead for the future."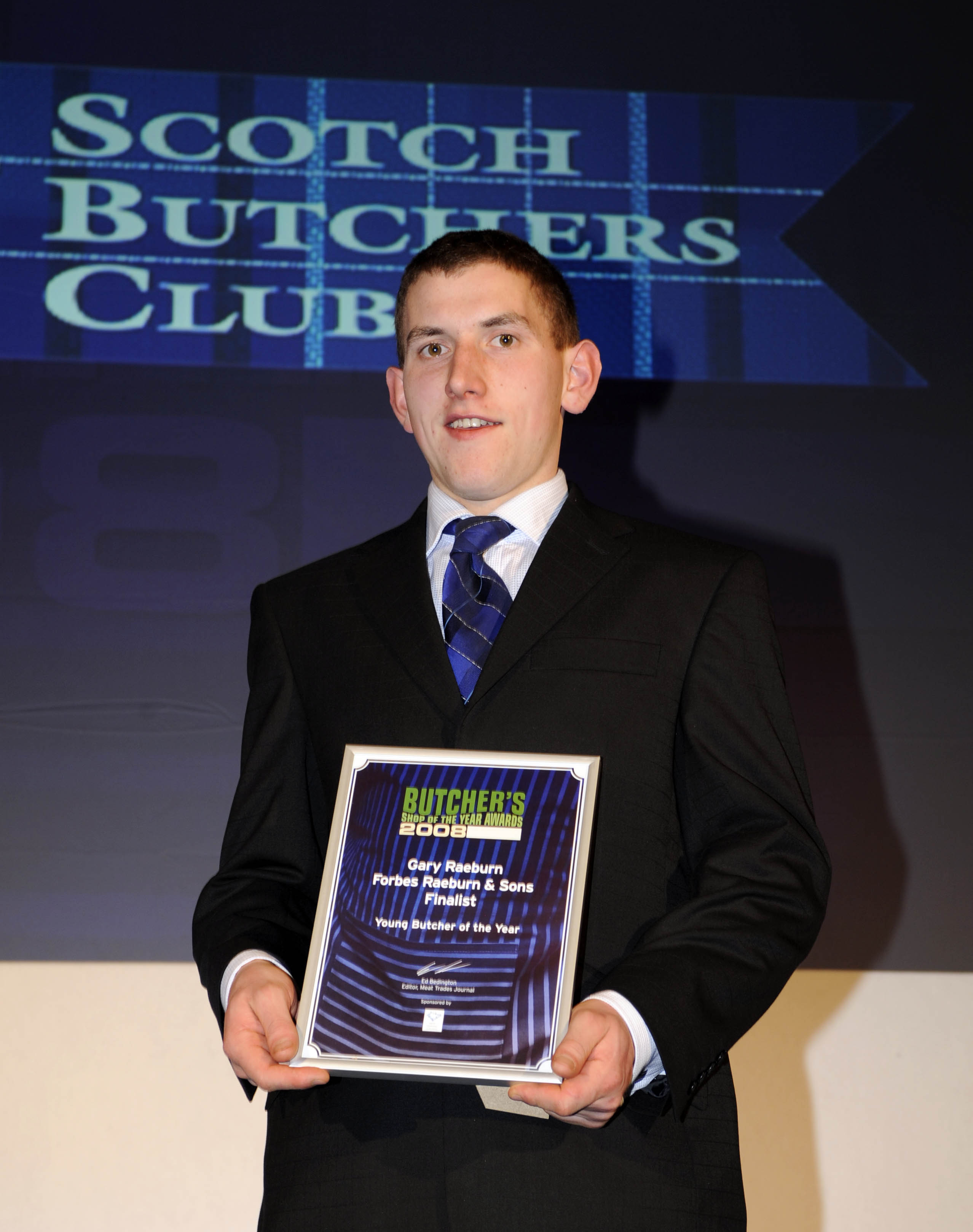 Young Butcher of the Year- Finalist

Gary Raeburn of Forbes Raeburn & Sons in Huntly was one of the top five in the National Young Butcher of the Year competition. He is already an award winning butcher having taken the title of Young Butcher of the Year in Scotland twice on the run. Keen to win more awards, Gary also shows an interest back down in the farming sector and is already winning awards in the livestock arena.

Gary is 22 years old and has been working full-time in the Family Business of Forbes Raeburn & Sons since leaving school at 17, although he has been involved in the shop from an early age doing after school work and Saturdays. Having successfully completed an SVQ Level 2 in Meat and Poultry Processing with Scottish Meat Training currently Gary working on the Federation Training Scheme.

In 2005 he entered the Meat Skills Competition for Young Butchers for the first time and he did really well in getting to the finals. In subsequent years he lifted the main prize and as a result represented his country at international skills events in Birmingham and twice in Dublin.

For the last two years Gary has been the butcher demonstrator on the Quality Meat Scotland Stand at the Royal Highland Show.This commitment shows just how enthusiastic Gary is for the industry but also the strength of his interest in its future.

In the shop he is experimenting with the curing of his own bacon and introducing new kitchen ready products.

Gary is a regular attender when SFMTA put on New Product workshops. His interests outside the shop include helping out at his other grandfather's farm. For the last five years he has been keeping some livestock of his own, through the Young Farmers Club of which he is a member. He buys in young spent calves in the autumn and has over wintered them with the idea of selling them in the springtime. Last year he kept one of his first 3 calves and fed it over the
summer. He entered it into the Keith and Turrif summer show in the cross-cattle halter sections. He then fattened the beast and showed it at the Aberdeen Christmas Classic Show and Sale at Thainstone Mart gaining an overall 3rd place in the section. At the sale the beast was bought by his father who then got it slaughtered so he could sell it in the shop.

This to Gary was very interesting to see the progress of the beast from the time he
bought it at Thainstone Mart all the way through the chain to cutting the
beast up in the back shop and selling it over the counter.








views: 3,198