SCOTTISH BEST BUTCHERS IN UK
Wednesday, 8th Nov 2006
David Craig from Robertsons in Broughty Ferry was awarded the UK Best in the Butchers Plus category for his foodhall concept in Brook Street.

Simon Howie, 270 High Street, Perth lifted the Scottish title then minutes later was chosen from the six regional winners as the best Butchers Shop in the United Kingdom.

Other finalists in the Scottish Butcher Shop of the year were Thomas Johnston Quality Butchers, Falkirk and The Store in Edinburgh.
Highly commended in the Best Butcher in Scottish region went to James Rae & Son, Polmont and Mull Butchers, Tobermory.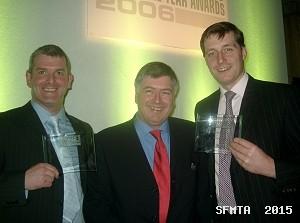 The Winners - Above: Gary Conacher, Fred A'Court and Simon Howie.

Below: Margaret and David Craig flanked by friends Martin Blackwell, David Lidgate and Sheila Ferguson





Convenor of the judges Fred A'Court summed up the reason for Howie's selection as "for sheer professionalism". Simon Howie revealed that he would place another reason at the top of his list - passion!

"We knew that every one of the entrants in consideration would be good. The displays on the day were going to be excellent too. We knew that it was going to be a lot more than the usual attributes. It had to be about the passion of the people in the business. When the judge came Gary (Conacher) and I spoke to him, handed him over to a couple of the guys in the shop and walked away. Fred spent much of the time with the people in the shop - it was not us. That was the single thing; when he came upstairs to talk to us, he was overwhelmed and delighted by what he had heard. Passion is a thing that you cannot replace with meat, hung, matured or price. You can't beat passion and that is it.

"If we had come down and not won the Scottish, our words for it - we would have been gutted - because we had put so much into it. The icing on the cake is winning the British title.

This is the fourth time that Simon Howie has been chosen as the best Butcher's Shop in Scotland and Simon did not want to stop singing the praises of his staff who he felt had clinched the top prize for him:-

"It is not Simon Howie who won this, I play my part and am happy to throw any compliments that anybody wants to throw at me. The reality is without Scott, Maureen on the desk, Steven and all the other staff there is no way that we would have won this.

"When I walk down the High Street in Perth, people know me because I served my apprenticeship in that shop, they don't stop me and say 'I loved the steak pie' or 'I thought that sirloin was the best I have ever had'. No they stop me and say, 'that Scott or that Darren has always got a laugh' and they always talk to me about the staff. That is the most difficult part of the business to roll out."

While a major asset Simon explained that the difficulty in sourcing good staff is possibly the greatest influence in restricting is own retail units to one in Perth and one in Auchterarder:-

"You can't replicate that kind of success overnight. They work well and gel well together; late nights and early starts.

"We are just so pleased. In many ways it draws a line on the butcher shop competitions for us. We take that, say 'we have done that' and not because we don't think that we could do it again but we will do what everyone else has done in that situation, step back. We say 'thank you very much' and use it.

"The big thing about this is PR, let's be real about it. It's about shouting about the best butchers shop in Britain being in Perth."

Ed Bedlington, Editor ofthe Meat Trades Journal introduced the awards:-

"Despite the difficult conditions there is a real opportunity for butchers at the moment. With increasing demand for high quality, locally sourced food and personal service butchers are in pole position to fulfil those needs. It is vital that this part of the industry takes advantage of all that and does not lose out to supermarkets. When it comes to fresh, healthy local meat the first point of call for any consumer has got to be their local butcher."



views: 3,149