MURDOCH BROTHERS WIN TITLE FOR FORRES MECHANICS
Wednesday, 12th Dec 2012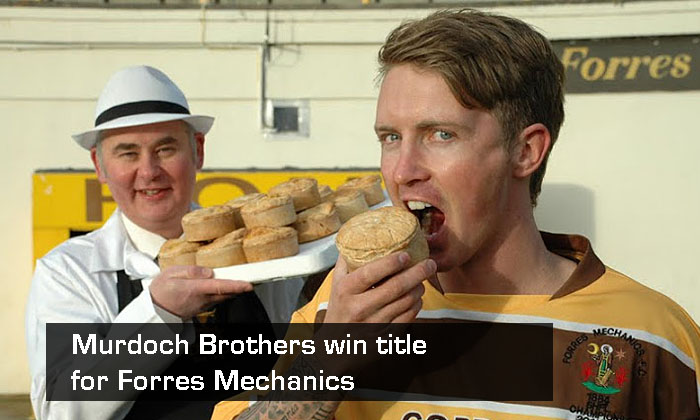 Forres Mechanics produced the quality on the pitch to win the 2011-12 Highland League but not that quality has been confirmed to the off the park quality as well. The Mosset Park club pies have been judged the best in Scottish Football at the Scotch Pie Club Awards.

Ronnie Murdoch, a partner with Graham his brother at Murdochs felt that lifting the trophy was a fantastic achievement for the business, their staff, the town and Forres Mechanics:-

"It is the first time that this award has been presented so to win it is an honour and a privilege. Hopefully it is the local bred beef that makes our pies a success, the steak in it is all prepared by ourselves. We use three suppliers in Elgin, Grantown and Inverurie; it is nice and tender with a nice gravy and a good shell - all are significant.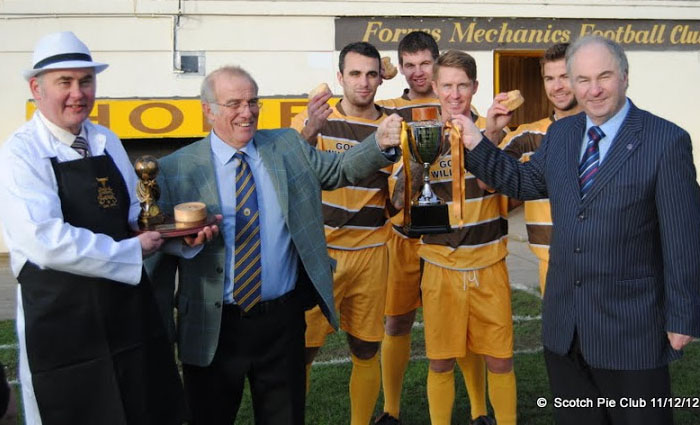 "We were very aware of the competition that we were up against not just
locally but nationally. There are a lot of good producers of high quality
products. I'd like to thank al my staff for being diligent and conscientious
about the products that they prepare and produce every day. It is really as much
their award as it is mine.




"Hopefully this will increase the sale of our pies, make people more
aware of Forres Mechanics and maybe bring some tourism into the area. The more
things that can generate income for the area is all good and positive."




Murdoch's won the World Scotch Pie Championship and in some respects know
what to expect from winning awards for their products:-




"We are still generating interest and sales as a result. We are
exporting pies now as well and our new website is creating sales now as
well."




Current pie production swings between 15000 and 20000 per week but with their
state of the art bakery there is scope for plenty more.



"We would be happy to supply other football clubs but we built the new factory so that we could handle more volume. Greater turnover will generate more jobs and generally make sure that the company succeeds.



views: 1,795