Inverclyde butcher crowned best in the UK
Monday, 29th May 2023


It's an unassuming village on the Clyde estuary best known for its busy ferry terminal to Rothesay and a pretty railway station, newly voted the UK's most loved train station.
But now Wemyss Bay has attracted another national title as McCaskie's Butchers and Café is crowned the best butchers shop in the UK.

The popular family butcher has been gathering attention from foodies all over the country for many years, winning a host of national awards. And now the 88-year-old business has secured the ultimate accolade.

McCaskie's beat off fierce competition from the very best butchers throughout Scotland, England, Wales and Northern Ireland to secure the most coveted title in the industry – the UK Butcher Shop of the Year.

Lifting the trophy at the awards ceremony in Birmingham, delighted co-owner and Managing Director Nigel Ovens said it was the proudest moment of his life.

A finalist in the prestigious awards last year, Nigel (46) explained how the popular butchers had made further improvements, and their hard work paid off when they lifted the highest possible accolade.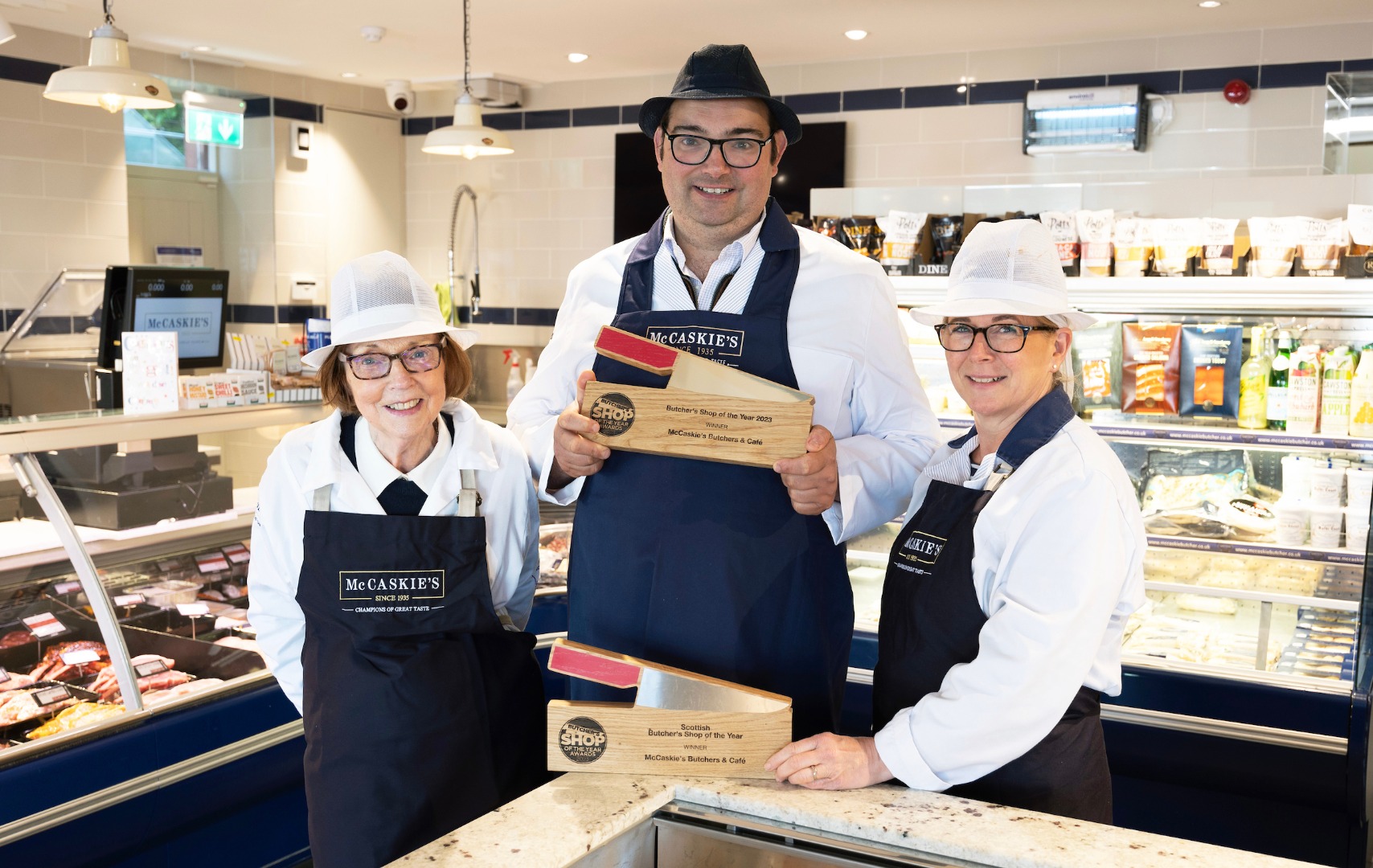 "I was shaking with excitement," said Nigel. "To win the Scottish Butcher's Shop of the Year was more than I had ever dreamed of and I wasn't even thinking about the next part. To then win the overall UK title - I can't quite put it into words.

"I'm still in shock," he added. "We were up against the most impressive butcher businesses in the land. To think our shop in Wemyss Bay could beat the best of the best in the UK is just amazing. I'm so proud of our entire team.

"People are now asking me what the secret is to McCaskie's success is and I can only reflect on what we've pursued to see us judged the best in the business," he said.
"You need dedication and attention to detail, a high-quality product range, innovation and progression – never stand still. You also need uncompromising standards in the appearance of the shop and highly trained and customer focussed staff," added Nigel. "And, of course, you need investment to keep up with modern standards and customer expectations.
"At McCaskie's we've invested well over a million pounds in recent years ensuring that we can deliver the best products in the best way in the best possible premises."
In 2018 HRH Princess Anne opened McCaskie's state-of-the-art small-batch production unit built behind the main shop, which was another highlight in the company's history.

The multi-award-winning butcher has achieved iconic status for speciality products such as haggis, black pudding, steak pies and dry cured bacon – commendations third generation butcher Nigel is justifiably proud of. McCaskie's is the current Scottish National Champion for Black Pudding (an award it has won previously), makes Scotland's most awarded Haggis and its unsmoked bacon won the Best Scotch product at the Scotland Food and Drink Excellence awards.

"These product awards show that we're delivering what the customer wants and we're hugely proud of them," said Nigel. "But to be judged the best butcher shop in the UK is a recognition for the entire business which includes our production, wholesale and retail elements, as well as our café. Best in the business is as good as it gets.

"My Grandfather Mearns T. McCaskie could only have dreamed of this honour when he launched the business in 1935," said Nigel. "It's a testament to all those involved with the development of McCaskie's ever since and we're absolutely thrilled to bring the title to Scotland and to Wemyss Bay."

Nigel said all the staff should take credit for the national award but singled out his mother and co-owner Elizabeth who, at the age of 19, entered her father's shop and has remained a stalwart of the business for the past 60 years.

"I`m dedicating this award to my mum and dad," said Nigel. "Mum lives and breathes for McCaskie's and this is just reward for 60 years of devotion, hard work and leadership. She works tirelessly to deliver the very highest standards of products and service, inspiring the whole team in the process."

Nigel's elation was tinged with sadness, however, as his father, Tom, passed away three months ago.
"My father should have been here to see this," said an emotional Nigel.

The standard of product produced at McCaskie's and shipped all across the country via their online business is, believes Nigel, one of the qualities focussed on by judges, who also highlighted "outstanding leadership and innovation" as being among attributes that made McCaskie's stand out.



"We only use 100 per cent Scottish meat," he said. "Scottish Aberdeen Angus beef, Scottish lamb from Bute and Scottish pork from Hawick. It's all fresh and of the highest quality and that provenance has helped attract customers from all across Britain."

McCaskie's attracted high profile press coverage when it rejected the approaches of a major multiple retailer to stock various McCaskie's products, preferring to support the independent sector through its supply to a number of Scotland's leading restaurants, hotels and specialist retailers.

So where now for the UK-beating butchers from Wemyss Bay?
"It has been a hard climb to the top, but it would be an easy fall down again, so we have to work at maintaining the standard that has made us the best in the UK," said Nigel. "We must invest in developing our team and attracting and training new talent to the business – our future will be in their hands."

ENDS

For further information please contact:
PR Maureen Young on 07778-779-888
or
contact Nigel Ovens direct on 07940-076-159




views: 1,730