2014 SCOTTISH BUTCHERS SHOP OF THE YEAR
Sunday, 16th Nov 2014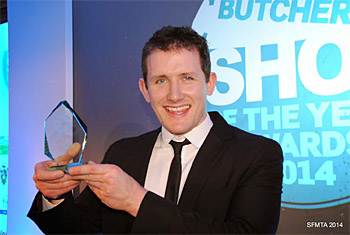 Graham Lawson was in London last week to collect a top industry award. For John Lawson Butchers it was a case of third time lucky at the Butchers Shop of the Year Awards as the Uphall butchers lifted the title Scottish Butchers Shop of the Year after two previous finalist places.

John Lawson's fended off the two other fellow Scottish contenders, both previous winners - S Collins & Son in Muirhead, North Lanarkshire and Davidsons Specialist Butchers in Inverurie.

The business was set up in Uphall by John and Linda Lawson in 1979. They now have another two shops in Broxburn and Winchburgh by their three sons John Stuart and Graham. All three sons came into the family business from university but it was Graham's turn to attend the awards luncheon at the Rosewood in London.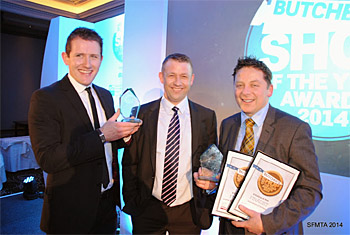 Delighted to have finally won, Graham explained:-
"This is recognition for the hard work and passion shown by my father. We take a lot from him and we have learned a lot from him. It is nice for him to be acknowledged for all the hard work put in other the last 35 years.

"We learned from our previous experiences and my Mum and Dad found out from the judges just how they thought we could improve.

"We were told to expand on our business side and say more about what we do. I think we put that across better this time.

"We refitted all three shops and over the last four years we have done quite a big re-branding job. We have developed the social media activity and got our website going.

"I feel that we have modernised and brought butchery to a younger clientele. There is a range of ready meal and value added products that attracts different customers.

"These customers have a young profile and Graham believes that younger people take comfort from having younger faces behind the counter who can be much more approachable to them.

"We do a lot of cooking, pies, lasagnes and cottage pies that are bought for convenience but in the knowledge that they are quality products, home made from our own beef and lamb. We like to think that we sell wholesome meals."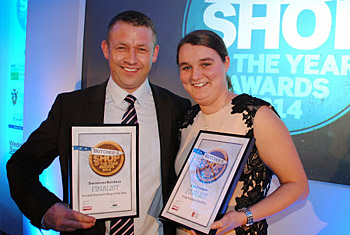 Davidsons also had a finalist in the UK Young Butcher of the Year category. (above) Lisa Finnegan joined John Davidson at the awards lunch.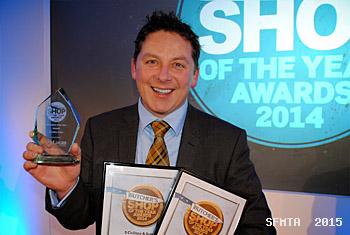 Stewart Collins (above right)Â picked up the Innovation prize for his customer loyalty gold card.



views: 1,656