2011 MEAT SKILLS SCOTLAND COMPETITION
Friday, 1st Apr 2011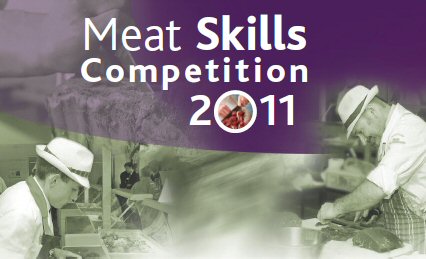 The Final of this year's Meat Skills Competition will take place at the "Scottish Meat Meat Trade 2011" in the Dewars Centre, Perth on Sunday 8th May 2011, the Under 22 Category will commence at 9.00am - prompt and the Over 22 Category will commence at 12.30pm. Both finals last 2½ hours.

Finalists Over 22
Darren Brown, Simon Howie Foods, Auchterarder
Richard Megahy, Simon Howie Foods, Perth
Gary Raeburn, Forbes Raeburn & Sons, Huntly
Aaron Taylor, Simon Howie Foods, Perth

Over 22 Finalists will work on:-
One Shoulder of Pork (cut between third and fourth rib)
One Saddle of Lamb (cut between 5th and 6th, chump off.)
Thick Flank of Beef (approx weight 6 kilos)

Finalists Under 22
Neil Anderson, Greens Fine Meats, Grantown on Spey
Billy Holding, Hendersons of Hamilton
Murray Jamieson, Bruce Brymer Butchers, Brechin
Gareth McDonald, MacDonald Brothers, Pitlochry

Under 22 Finalists will work on:-
One Shoulder of Lamb (cut between 5th and 6th rib, shank down)
One Pork Loin and Belly (uncut)
Thick Flank of Beef (approx weight 6 kilos)

Competition Rules

Eligible to take part are butchers (m/f) working in businesses in membership Scottish Federation of Meat Traders Associations or undertaking formal training with Scottish Meat Training (SMT).

Competitors must agree to abide by all the rules and judges' decisions. These decisions are final and no discussion or correspondence will be entered into.

Best practice in health and safety and hygiene should be portrayed. Protective apron, glove, gauntlet and footwear must be worn. The apron must be of a size to adequately protect chest, abdomen and upper leg. Participants will not be allowed to enter the competition on the day without safety equipment. Appropriate headwear must be worn.

Competitors must supply all their own equipment, including knives, saw, cleaver, safety equipment (minimum chain mail apron and glove as specified above), skewers, twine, etc. A mincer and slicer will be provided on the day. Meat to be worked on will be supplied.

When manufacturing value-added products, competitors must provide their own seasonings, spices, marinades, fruit, vegetables, garnishing, etc. Small quantities of additional and pre-prepared meat products can be used e.g. haggis, black pudding, bacon and sausagemeat.

Competitors must supply their own meat trays, plates, salvers, bowls, or other items on which their meat cuts and finished products will be displayed.

Competitors may supply and use additional non-food decorative materials or 'props' to enhance their display as long as they are food safe and comply with hygiene best practices. The meat props must be used within the display area of 1250mm x 680mm allowed for each competitor.

Entrants will provide ticketing to merchandise their display. Ticketing will carry the following information – product name, product price, legal meat declaration.

The only persons admitted to the Competition Area during the Competition are the chairperson of the Judging Panel, the members of the Judges, the competitors, and other persons responsible for the organisation of the Competition, on the day. No-one else may be present on the Competition area without the consent of the chairperson of the Judges.

It is the entrants' responsibility to ensure all equipment and surfaces used are cleaned to the appropriate standard.

All competitors must agree to participate in promoting and reporting the competitions and to the use of their personal details for those purposes.Time away from work to take part in the competition is not a cost on SMT.

Assessment criteria is shown on the attached judging sheet. All judging sheets remain the property of SMT. It is Scottish Meat Training's responsibility to remove all meat products from the judging venue.

Failure to adhere to any of the above rules may disqualify a competitor.








views: 1,866