WORLD SCOTCH PIE CHAMPIONSHIP 2007
Wednesday, 29th Nov 2006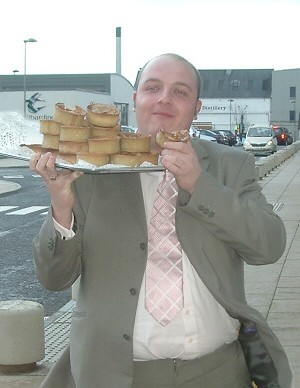 Winner Keith (25) was overcome on discovering his company had lifted the title especially since his father Alan, as organiser, had kept the result a secret during the three weeks since the judging took place at Lauder College.

Keith was presented the huge replica pie trophy by John McDonald from Scottish Society for Autism, the charity that will benefit from Scotch Pie Week with a percentage of all pie sales going their way.
Speaking at the World Scotch Pie Presentation Lunch Alan Stuart the enthusiastic promoter of the Scotch Pie Club congratulated his son Keith who had taken over responsibility for pie production in January following the retrial, through ill health, of his long server Bakery Manager David Dalgetty.

Keith who has been in the trade since leaving school at the age of 16 was very surprised at going one better than they did in 2000. Describing the experience as 'unbelievable' Keith claimed the secret of his pies:-

"Our shells are a little bit different from everybody else. We have a crustier shell, we use good beef flanks and a nice evenly balanced seasoning. Other than that you just need to take your time and make sure that everything is 100% correct. I am just going to enjoy this and be back next year to defend my title."

Stuarts were runners up in the World Scotch Pie competition in 2000 and only Aulds of Greenock have successfully defended the title in the eight year history of the contest.

Celebrations did not go on too long since Keith was starting work at five o'clock the following morning

"According to previous winners demand soars; there might be some overtime in the bakery for the 35 employees."

Stuarts are fortunate that they opened new bakery premises in Methil in October 2004 to supply their three butchers shops and sixteen bakers shops .

WORLD SCOTCH PIE COMPETITION 2007
Overall Champion Stuarts of Buckhaven

GOLD MEDALS
First Runner Up Wrights Butchers, East Kilbride

SILVER MEDALS
Crombies of Edinburgh
F Ballard Butcher, Castle Douglas
Murdoch Brothers, Forres
Grossett of Tayside

Norrie and Keith Stuart proudly hold the World Scotch Pie Championship Trophy backed up by Derek McMahon, Alan and Jan Stuart.



views: 1,973