Virtual victors as Scotland`s apprentice butchers battle it out online
Friday, 7th May 2021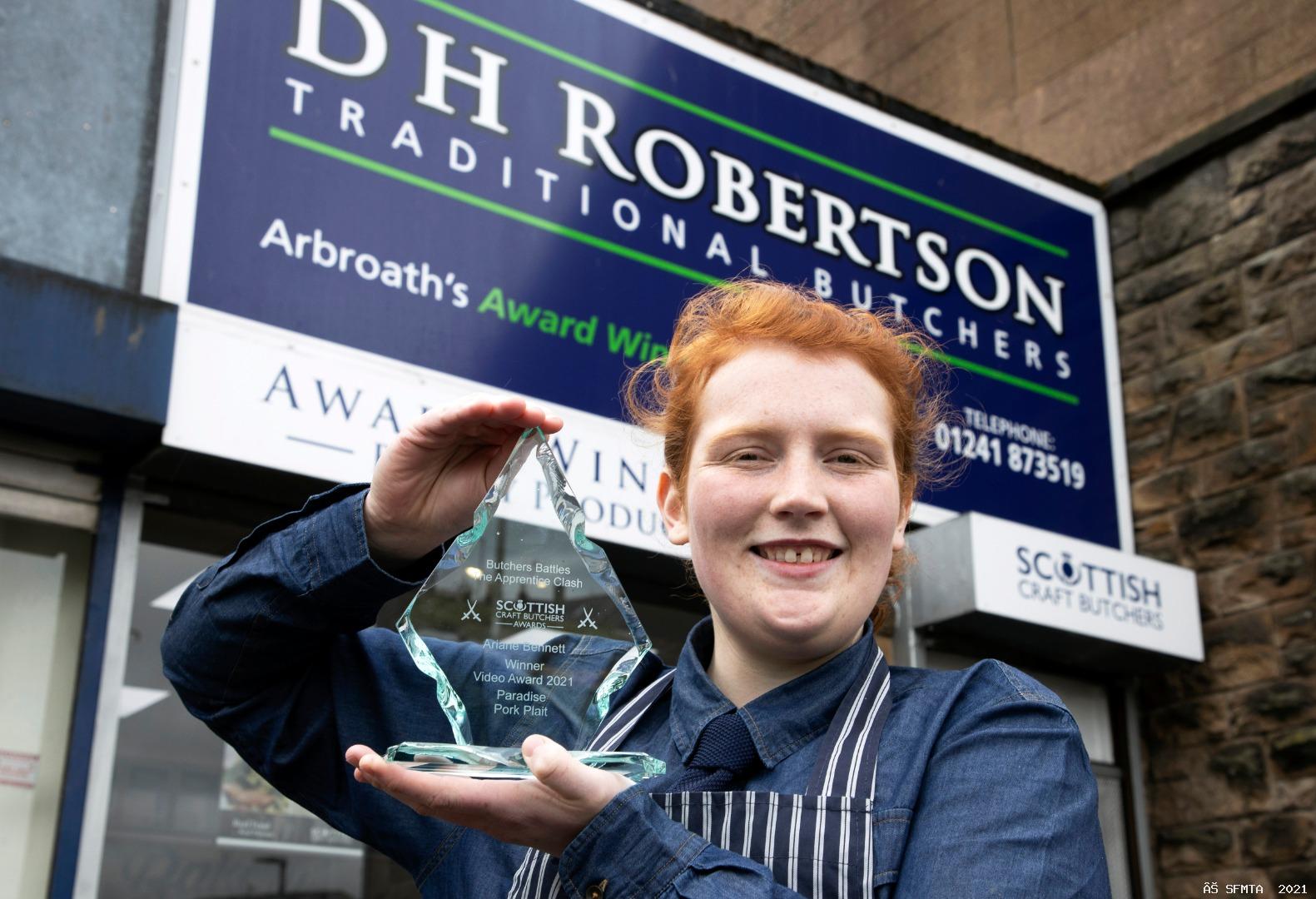 A delighted Ariane Bennett (20) from D H Robertson in Arbroath and Jordan Shaw (20) from S. Collins in Muirhead lifted the honours respectively.

Ariane, who has worked in the family business since leaving school, created a video showing the preparation, presentation and cooking of her Paradise Pork Pleat creation.
Jordan, who is in his fifth year with the Muirhead butchers, showed in photographs and text how to create his Stuffed Lamb Loin winner.

Gordon King, Executive Manager of Scottish Craft Butchers, explained that the pilot awards had proved hugely popular and allowed young apprentice butchers to translate their ideas into marketable products and hone their virtual presentation skills.
"The past year has been tough on our apprentice butchers," he said.
"Many are having to carry out assessments remotely and engage with trainers and assessors on virtual platforms.
"The inability to hold physical competitions prompted us to pilot something online, encouraging apprentices to present in a format they wouldn`t normally use and boosting their confidence."
Mr King added that the competition also aimed to push standards ever higher for the young butchers and recognise their innovation, creativity and product quality.

"We`ve been delighted with the interest shown and every new product presented by the entrants is worthy of a place on their shop counters," he said. "we`ll certainly consider running this sort of online competition format in the future."
Video presentation winner Ariane said the online competition had been a great way to bring new product ideas into the spotlight.
"I`m absolutely thrilled that my video presentation came out top in the whole of Scotland - I can hardly believe it," she said.
"I`m a Young Ambassador for QMS and to bring forward a new award-winning product using locally sourced Specially Selected Pork is really exciting."
Jordan was equally thrilled to secure first place with his digital visual presentation.
"I love coming up with new product ideas and I love teaching skills to others so this combined both in one virtual entry," he explained.
"To win this award is absolutely brilliant. It`s the first for my trophy cabinet.
"It`s also really heartening to have your product ideas and presentation skills acknowledged as being of a high standard - it`s a real thrill."
The competition was judged by Scottish Craft Butchers Honorary Presidents George Lees and Stuart Dempsey and a £250 cash prize to accompany an industry trophy was donated to each winner by SCB President Tom Courts.

Jordan Shaw - Step by Step Recipe Winner






views: 760