Traditional Sliced Beef Sausage Championship
Wednesday, 29th Jun 2016
2014-15 Champions Hugh Black & Sons, Cambuslang with Robert Watson of sponsors McAusland Crawford

Traditional Sliced Sausage Awards 2016
To be judged at BioCity Scotland, Newhouse ML1 5UH
on Thursday 18th August 2016

The five regional winners will receive a certificate and qualify for the National Final. The qualifiers will be purchased anonymously over the shop counter and all winners will be announced at the SFMTA Regional Meetings in the first week of October 2016.

CONDITIONS OF ENTRY TRADITIONAL SLICED BEEF SAUSAGE

1. Entries will only be accepted from members of SFMTA and are limited to one per shop.
2. Each entry must be made on that shop premises by the retailer or his staff.
3. Entrant shop premises must be in Scotland.
4. Each entry must consist of six slices of raw sliced beef sausage.
5. Entries, successful or otherwise, will not be returned.
6. The entries will be judged by a panel of judges.
7. There will be Regional Champions and from them first and second overall will be decided.
8. The judges` decision will be final and no correspondence will be entered into after the event.
9. Entry fee of £15 and completed entry form must be received by Friday 5th August.
10. The product should be labelled "Traditional Sliced Sausage" with no reference to the business name on the label. The name of the business should be highlighted on the outside of the box and sent to:-
Scottish Craft Butcher Evaluation c/o BioCity, Boness Road, Newhouse, Lanarkshire, ML1 5UH.
11. Entries must be delivered to Scottish Craft Butcher Evaluation c/o BioCity, Boness Road, Newhouse, Lanarkshire, ML1 5UH on Wednesday 17th August between 11.00am and 4.00pm below 8ºC. Collection points are available in Inverness, Aberdeen, Perth, Kilmarnock, and Lauder.
12. Late entries after 5th August will not be accepted.
13. Titles used in promotion must include the year of award, as above.

Entries must be registered and paid for by Friday 5th August 2016.

Below: Robert Watson of McAusland Crawford with Hendries of Girvan,
2012-13 Scottish Sliced Sausage Champions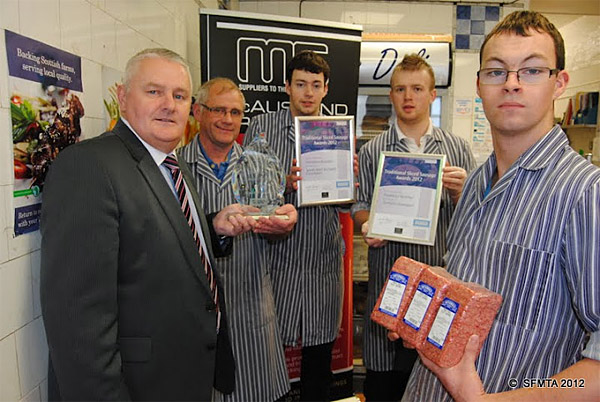 Hendries of Girvan, Champions 2012-13




Traditional_Sliced_Sausage_2016_Entry_Form.pdf



views: 3,241