Five Star Service in Bathgate
Friday, 15th Apr 2016

Five female staff members from David Stein's in Bathgate this week received certification for a Level 2 Modern Apprenticeship (MA) in Food & Operations: Meat and Poultry Skills.

In March 2014 Scottish Meat Training registered the Stein ladies MA in Meat & Poultry Skills on a Customer Service pathway. All were experienced staff but they were keen to learn more and achieve a qualification subsequently between 20 and 25 months later all five had achieved their goal.

Heather Denholm, Lynne Morrison, Isobel Banks and Ellen Shepherd all from Bathgate and Lisa Jane Conchie who comes from Harthill, thoroughly enjoyed the course. They looked forward to the interaction with their assessor Gordon Wallace who visited every 12 weeks and found that the course content helped tune the skills that they use on a daily basis in their jobs.

Left to right: Isobel, Lisa Jane, Lynne, Ellen and Heather with Kirstie

Owner Kirstie Stein is delighted with the enhanced skills that her staff worked on and is confident that her customers' expectations will not only be met but exceeded as a result of her business' investment in the workforce. She said:-

"I was very pleased with the course and found considerable benefits for the staff and for the business. The staff gained confidence and reinforced their knowledge. I wanted to invest in my staff by giving them the opportunity to gain qualifications and upskill.

"The ladies now all have a recognised qualification that they can use in the future to enhance their skills in their current workplace. Their knowledge is current and up to date. Many of the ladies have not undertaken any qualifications since leaving school so this was a fantastic achievement for them."

Although the butcher's shop is very impressive, clean and sharp there is much more than quality meat and meat products. Lots of interesting areas display chutneys, jams, sauces and preserves and an inviting array of local gins and wines. There is even a café area at the rear of the shop where the tables are always at a premium. The continual stream of customers are all greeted by name and with a cheery smile as they come through the door.

Kirstie explained that they wanted a shop that would attract the younger generation as well as their existing customers and all would enjoy shopping in. The entrance to the shop was enlarged to ensure that buggies could have easy access and there was still be plenty of room for more customers to gain easy entry and exit from the shop.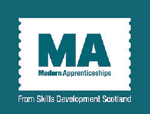 All five looked absolutely delighted to receive their certificates after all their hard work and Kirstie looked very much the proud employer. For Ellen Shepherd time to complete her qualification competed with arranging her wedding which takes place next week.






Their assessor Gordon Wallace from Scottish Meat Training said:-

"Each SVQ is made up of a number of individual units, tailored to the job role. The in-house training of a Modern Apprenticeships programme boosts staff development by providing a structure for the vocational training of employees.

"The Modern Apprenticeship is funded through Skills Development Scotland but both the employer and the employee time is required to come through the programme successfully. Much credit should be paid to the Stein business and to all the ladies for the considerable commitment they have made to reach this achievement."




views: 3,291