Diamond daze for Scotland`s award-winning butchers
Thursday, 30th Jul 2020
Awards veteran Paul Boyle of Boghall Butchers said winning the Best Beefburger in Scotland title was "an award worth waiting for".
"We were runners-up for the title eight years ago and we set our mind to going one better one day," said the owner of the popular family business. "We`ve tweaked the recipe for this steak burger slightly over the years and now it looks like we`ve got it just right.
"We`re absolutely thrilled to achieve this top standing and it`s a real feather in the cap of everyone involved at Boghall Butchers."

Sweet Chilli Cheese Burger - Marzipan Meats, Tayport



Taking the Scottish title for Best Speciality Burger is Tayport`s relatively new business, Marzipan`s Meats, where owner Paul Marzinik said his award-winning Sweet Chilli Cheeseburger was a classic flavour combination that was already a winner with his customers.
"It`s the fastest selling burger we do," said Paul who launched the business three years ago. "It outsells all the others.
"I`m over the moon to win the Scottish title and our beautiful Diamond Award will take pride of place in the shop window," he said. "My Dad`s busy producing plenty more so that hopefully anyone wanting to try Scotland`s best speciality burgers won`t leave empty-handed!
"This is an unbelievable honour and we`re over the moon to receive this recognition from the industry and our peers. It`s a tremendous boost to a young enterprise."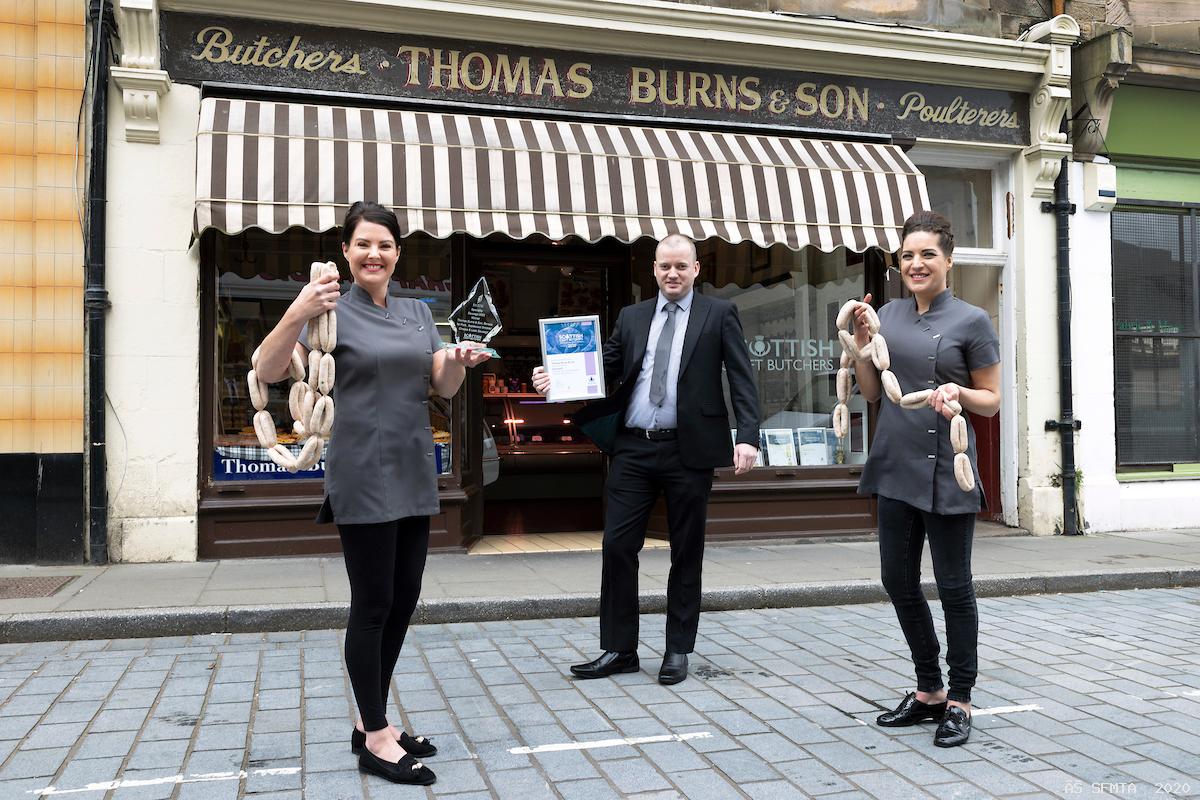 Pork, Applewood Smoked Cheddar & Leek Sausage - Thomas Burns & Son, Boness




A unique combination of pork, applewood smoked cheese and leek secured the Best Speciality Sausage title for sisters Jane Ross and Emma Burns who own Thomas Burns & Son butchers in Boness.
And they were thrilled to see their tasty sausage bring home a Diamond Award for the family business.
"This sausage formed part of our new summer food range and has proved a winner with our customers," explained Jane. "To see it wow the judges as well is fantastic - we`re so thrilled. This is ultimately what we all want - the Diamond Award is the big one."

Gordon King, Executive Manager of Scottish Craft Butchers, said the standard in this year`s industry evaluations had been "exceptional".
"Every time we stage these awards the bar just gets higher," he said. "The innovation, dedication, quality and consistency shown by Scotland`s butchers is outstanding and the products presented for evaluation were among the best we`ve ever seen.
"We had nearly 400 entries this year, resulting in three Diamond, 120 Gold and 196 Silver awards being presented - all demonstrating the very high standard of product developed and sold by our local butchers."

Mr King praised the outstanding contribution of Scotland`s butchers throughout the Covid-19 crisis, stressing that many had gone the extra mile to ensure that housebound, elderly and vulnerable customers enjoyed home deliveries and that measures were taken to ensure shop customers enjoyed a safe and compliant shopping environment throughout.

"Scotland`s local butchers proved yet again that they are the heart of the community and they have excelled not only as a local service but also on the national stage with some truly outstanding products."
The Scottish Craft Butchers Awards 2020 were sponsored by national butchers suppliers Dalziel Ltd., Bellshill.

Danny Upson, Dalziel`s Retail Butchery Sales Director, congratulated all the award winners.
"We are very proud to support and sponsor this year's product evaluation event," he said. "We believe it's so important to support these types of events to help all retail butchers to showcase the quality of the products they make and sell."




views: 4,046