2019 Ready to Cook Product Evaluation
Sunday, 12th May 2019
Above: Andy Grant from John Stewart, Banff is presented with the trophy for the best Ready to Cook Product from Erin Conroy of contest sponsors, Verstegen.

Diamond Award
Indian Mystery Currypot John Stewart Banff

Diamond daze for Banff butcher

A chicken breast infused with the exotic flavours of India has won the Best Ready-To-Cook Product in Scotland accolade for a Banffshire butcher.

The recent Scottish Craft Butchers` evaluation awards recognised the best ready-to-cook products currently available in Scotland`s butcher`s shops.

And the Indian Mystery Curry Pot entered by John Stewart Butchers in Banff High Street secured the coveted Diamond Award, marking it out as the best of its kind in Scotland.
Delighted owner Andy Grant said customer trials of the new dish had proved outstanding and they had high hopes of the product doing well in the Awards.

"We`re absolutely thrilled that it`s lifted the top award," he said. "Credit goes to our butcher Scott Gillies who was challenged to produce a product that could top our previous Gold Award winners," revealed Andy. "Everyone`s delighted that he`s done exactly that with a first class oven-ready dish."

Andy, who took over the popular butcher`s shop two year ago, said that the Diamond dish featured a stuffed chicken breast infused with Tandoori, cream cheese and finished with a Mystery glaze.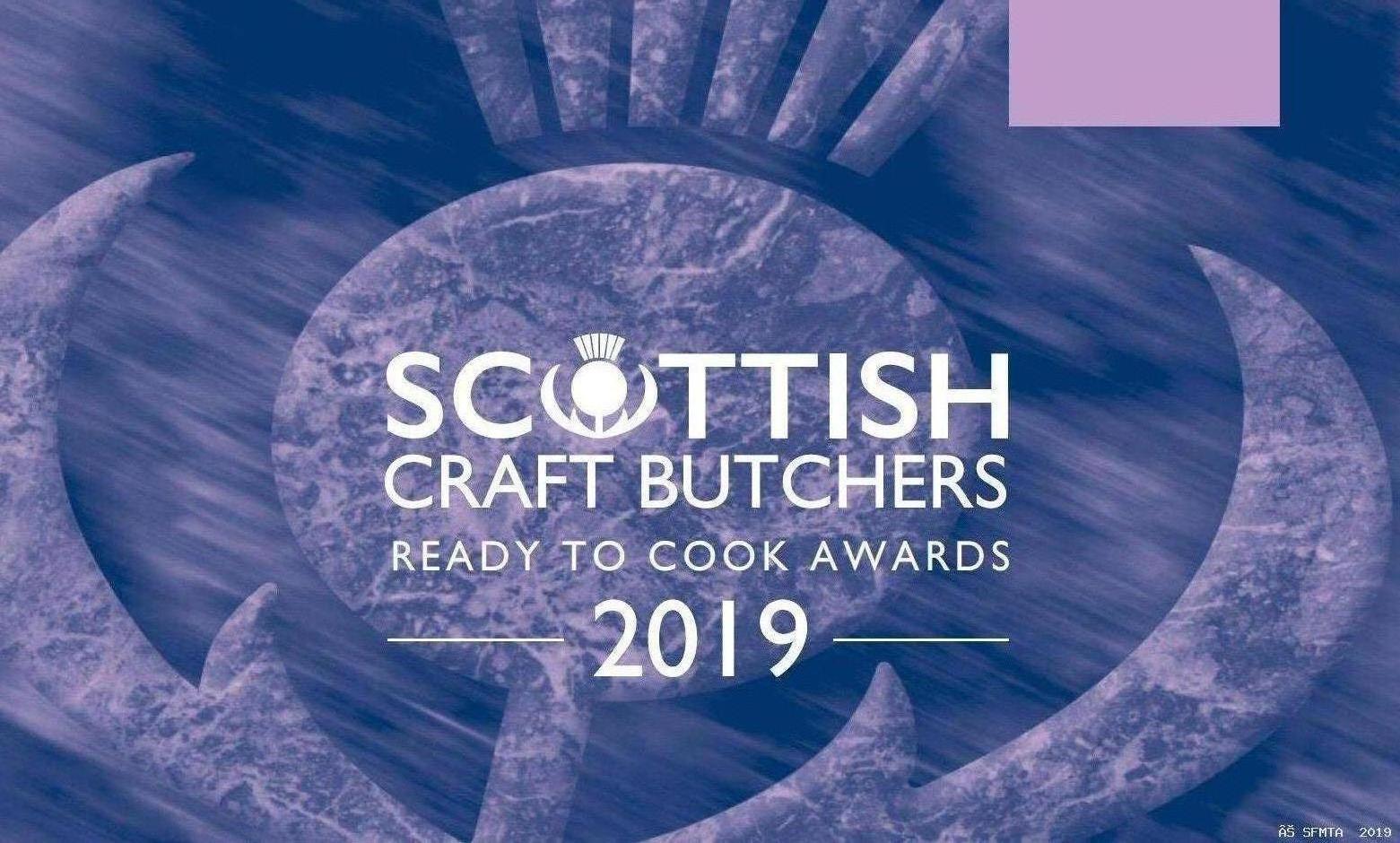 Gold Awards

Wild Pheasant Schnitzel A D Paton Largs
Venison Diane & Ruffel A D Paton Largs
Honey, Mustard, Steak n Black Bacon Pastry Stacks Andrew Kirk Cardenden
Chicken Cordon Bleu Bel`s Butchers Edzell
Med Chicken Pizza Bert Fowlie Strichen
Honey Chilli Chicken Bert Fowlie Strichen
Peppered Salsa Chicken Casserole Bert Fowlie Strichen
Pepper Steak Parcel Bert Fowlie Strichen
Beef Olive Goulash Meal Crombies of Edinburgh
Oat So Curry Chicken D H Robertson Arbroath
Wrap Barbecue D H Robertson Arbroath
Hunters Chicken Parcel D H Robertson Arbroath
Chimicurri Pork Lattice Dales Traditional Butchers Cumbria
Venison Parcel Donald Gilmour Kingussie
Beef Bourguignon Elderslie Butchers Elderslie
Italian Meatballs Chilli Elderslie Butchers Elderslie
Salt n` Pepper Pork Strips Falleninch Farm Butchers Stirling
Thai Chicken Curry Foston Fine Meats Duns
New York Meatballs Gloagburn Farm Shop Tibbermore
Cordon Brochs I J McIntosh Fraserburgh
Rib Cap Beef Bombs I J McIntosh Fraserburgh
Honey & Mustard Sausage Rolls I J McIntosh Fraserburgh
Week Day Wellington I J McIntosh Fraserburgh
Summer Sensation James Hall & Sons Kirkcudbright
Mexican Madness James Hall & Sons Kirkcudbright
Garlic, Cheese & Bacon, Chicken Lattice James Pringle Hawick
Chimichurri & Cheese, Chicken Lattice James Pringle Hawick
Golf Balls - Minced Pork with Apple Stuffed with Chimichurri Sauce James Pringle Hawick
BBQ Pulled Pork Burrito John Stewart Banff
Spicy Italian Meatballs in Tomato and Herb Sauce McCaskies Weymss Bay
Deconstructed Spicy Chicken Enchiladas McCaskies Weymss Bay
BBQ Pork Belly McCaskies Weymss Bay
Mexican Madness Chicken Stir Fry McDowall Butchers Ltd Paisley
Chicken Kiev Patricks of Camelon Camelon
Peppercorn Chicken Parcel Pollok Williamson Ayr
Chicken Pizza S Collins & Son Muirhead
Chicken Parmagano S Collins & Son Muirhead
Chicken Highlander S Collins & Son Muirhead
Salt & Pepper Pork with Jamaican Potatoes and Honey Roast Vegetables Scott Brothers Dundee
Pork Calzone Scott Brothers Dundee
Buffalo and Haggis Truffles The Buffalo Farm Kirkcaldy
Highland Stacks The Buffalo Farm Kirkcaldy
Chicken Stroganoff Tom Courts Quality Foods Burntisland
Pork, Bacon & Cheese Logs W F Stark Buckhaven
Thai Pyramid W Reid Butchers Hopeman
Silver Awards

Venison Lemon & Chilli Ginger Stir Fry A D Paton Largs
Birds Nest A& I Quality Culloden
Chicken Kiev A& I Quality Culloden
Steak Burger Wellington Andrew Kirk Cardenden
Cheese and Onion Chicken Bel`s Butchers Edzell
Stuffed Pork Tenderloin Bel`s Butchers Edzell
Smokey BBQ Victoria Bert Fowlie Strichen
Japanese Crispy Bacon Rolls Bert Fowlie Strichen
Honey Chilli Beef Bert Fowlie Strichen
Italian Style Meatballs D O`Neill Butchers Abbeyview
Bombay Chicken Curry D O`Neill Butchers Abbeyview
Chicken Delight Gluten Free Dales Traditional Butchers Cumbria
Bombay Zingers Elderslie Butchers Elderslie
Mongolian Beef with Green Peppers Elderslie Butchers Elderslie
Peking Chicken Foston Fine Meats Duns
Creamy Pepper Chicken Roulade Hunters of Kinross Kinross
Hunters Chicken Hunters of Kinross Kinross
Hunter Chicken Wellington I J McIntosh Fraserburgh
Mexican Cordon Bleu I J McIntosh Fraserburgh
Chicken Bombs I J McIntosh Fraserburgh
Chicken Korma I J McIntosh Fraserburgh
Spicy Thai Chicken Stir Fry James Anderson Edinburgh
Chick-A-Pizza James Anderson Edinburgh
Hot & Spicy Chicken Stir Fry James Anderson Edinburgh
Beef & Peppercorn Puffs James Pringle Hawick
Chicken Cordon Bleu Linton Butchers East Linton
Taste of Italia Tomato Meatballs McDowall Butchers Ltd Paisley
Chicken Tikka Rogan Josh Curry McDowall Butchers Ltd Paisley
Hunters Chicken Patricks of Camelon Camelon
Highland Truffle Pollok Williamson Ayr
Brae-Mar Truffle Pollok Williamson Ayr
Chicken Frazzel S Collins & Son Muirhead
Mexica Madness Truffle Thomas Burns & Son Boness
Mexican Madness Turnover Thomas Burns & Son Boness
Chicken, Haggis and Creamy Peppercorn Sauce Lasagne Thomas Burns & Son Boness
Luxury Fillet Steak Wellington Thomas Burns & Son Boness
Ketchup Meatballs Tom Courts Quality Foods Burntisland
Bombay Chicken Tom Courts Quality Foods Burntisland
Thai Green Curry W Reid Butchers Hopeman


Related Stories


views: 1,684