2018 Scottish Beef Sausage Champion
Tuesday, 19th Jun 2018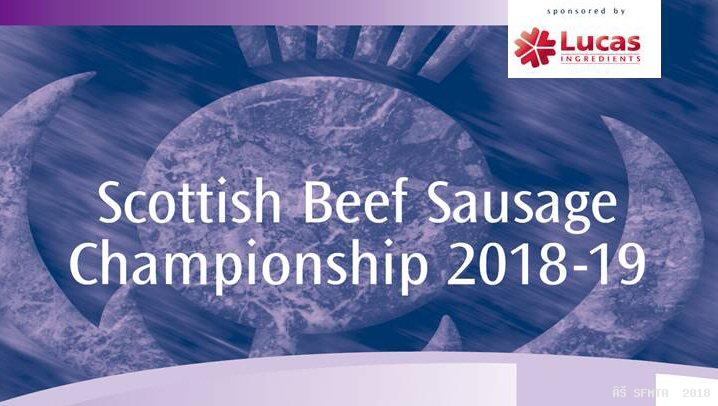 A Dalbeattie butchers Beef Sausages have been judged the best in Scotland. When the final of this year's Scottish Beef Sausage Championship was held earlier this month at the Edinburgh New Town Cook School, sizzling success came for the firm of T H Carson.

As South West of Scotland champions Carson's represented the region at the 2018 Scottish Final and the Dalbeattie banger came out on top fighting off regional champions from the other four regions in Scotland.

Above: Scott Carson and sausage maker Barry receiving the Scottish Beef Sausage title from Judith Johnston of contest sponsors, Lucas Ingredients

Scott Carson was delighted to be named Scottish Beef Sausage Champion 2018-2019. He was presented with his title and trophy by Judith Johnston of competition sponsors Lucas Ingredients.

"It feels absolutely fantastic. It is nice to win a national award, it lets people know that you are putting a good product out there.

"I am particularly pleased for the boys because it is a team effort, I could not do it myself. They are a good bunch, they stick together and even go out together after work. "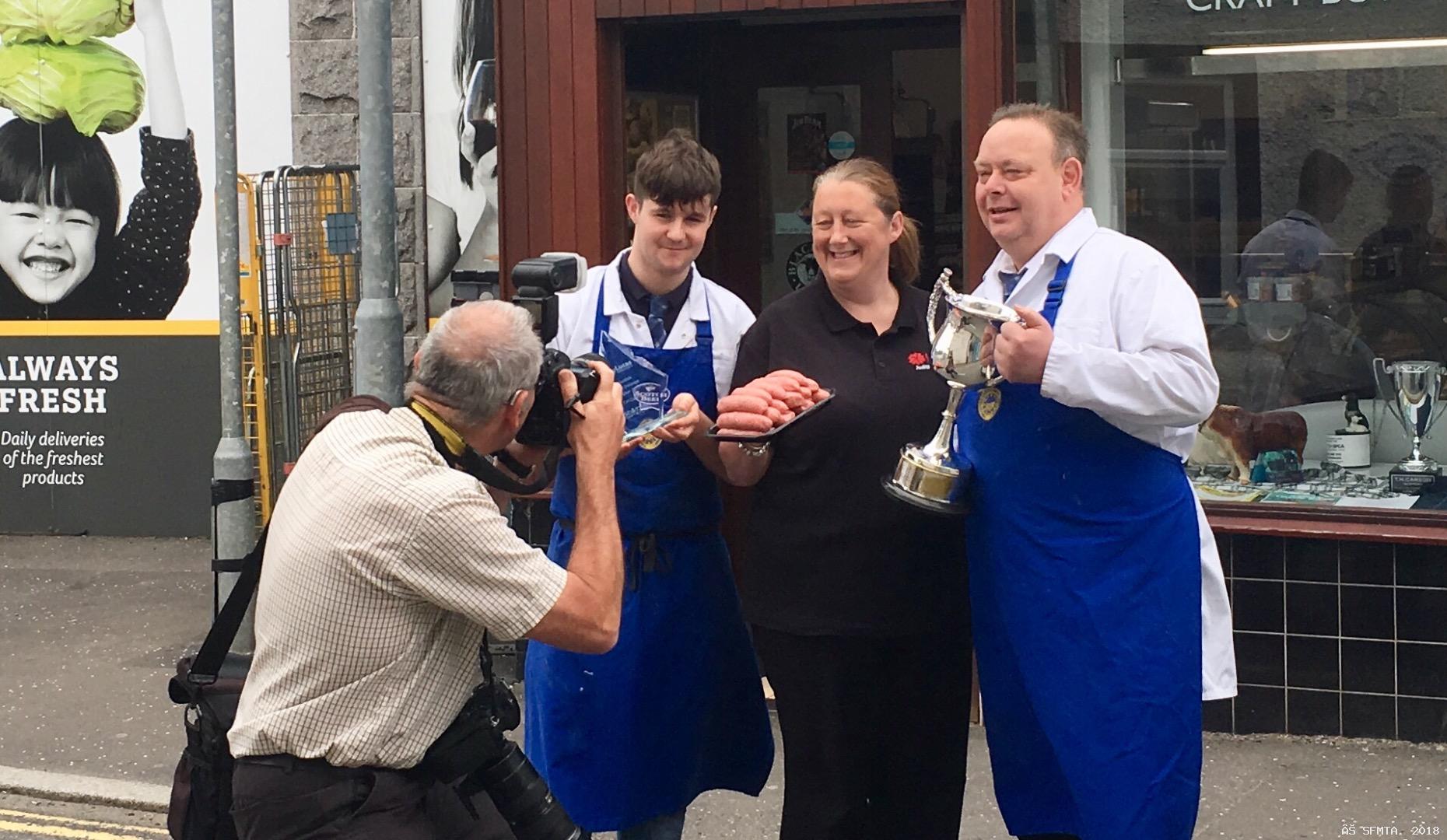 The business has a pedigree of winning awards for their meat products so clearly Scott is showing them well. He joked "I do my best!

"We just try and make the best product that we can. It is nice to get recognition and let's us know that we are doing it right. We use the best of ingredients, if you put good meat in you get a good product back.

"We have used the same seasoning for many a long year. It is a good one and Judith knows all about the seasoning!"

The business was established in 1933 as the partnership of Brown and Carson, before Thomas Hastings Carson went out on his own in the 1950s. Scott has carried on the business and he now hopes that his win will give Dalbeattie a left.

"Things have been a wee bit flat lately with shops shutting, so I am hoping that this win will help attract people into the town. If they use my shop they will maybe use other shops in the town as well."

The Beef Sausages from all the regional champions were purchased by mystery shoppers, these included sausages from Newtyle, Culloden, Kilsyth and Port Seton and then put to the test in a final cook off.

The panel of experts was led by Fiona Burrell, Principal at the Edinburgh New Town Cook School ably assisted by her staff members Kerri Pallister and Susie Henderson. The ladies chose Carson's as the best butcher's Beef Sausages in Scotland for 2018.

Commenting on the result Douglas Scott, Chief Executive of the Scottish Craft Butchers said:-

"Every Scottish Butchers tries to make the very best beef products but to come through several layers of judging to win regionally and then nationally is no easy challenge. Scott Carson has a fantastic record when it comes to picking up awards for his sausages and has come to the top yet again.

"This competition highlights the skills and passion in their products among the craft butcher's sector and I am certain that this title will fill Scott Carson, his staff and customers with pride. What's more I expect sausage lovers from all over the country to be making tracks to Dalbeattie."

Related Stories


views: 1,847