2016 SVQ Level 2 Modern Apprentice of the Year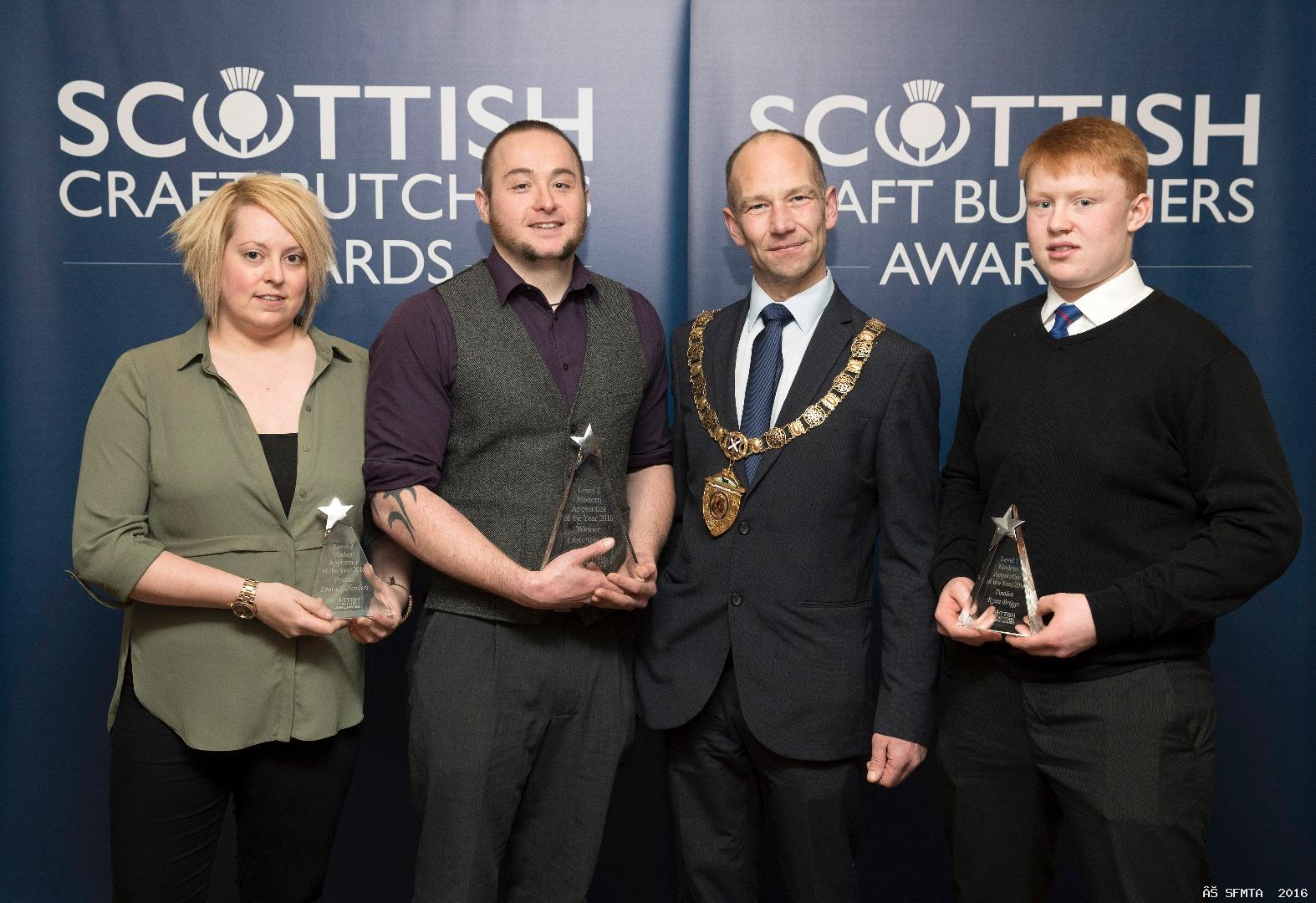 Winner: Chris Wright, Andersons Ltd Whiteness Shetland ZE2 9LJ

Chris`s path to butchery has taken him a very different route to that of most of us in the meat trade, including mental health support, parkour or free running coach and photographer.

He started in Andersons in Whiteness, Shetland Isles back in 2015, carrying out the manufacturing, but his enthusiasm soon shone through and he set about developing his knife skills.

His attention to detail and ingenuity soon had him developing unique products from scratch, using only fresh ingredients and moving away from the traditional rip and tip type of seasonings. This has led Chris, via his employer, to start his Instagram profile of Reel Maet Shetland, promoting the range of additive free products the business now sells. With his photography skills, this is an exceptionally good account, well worth a look.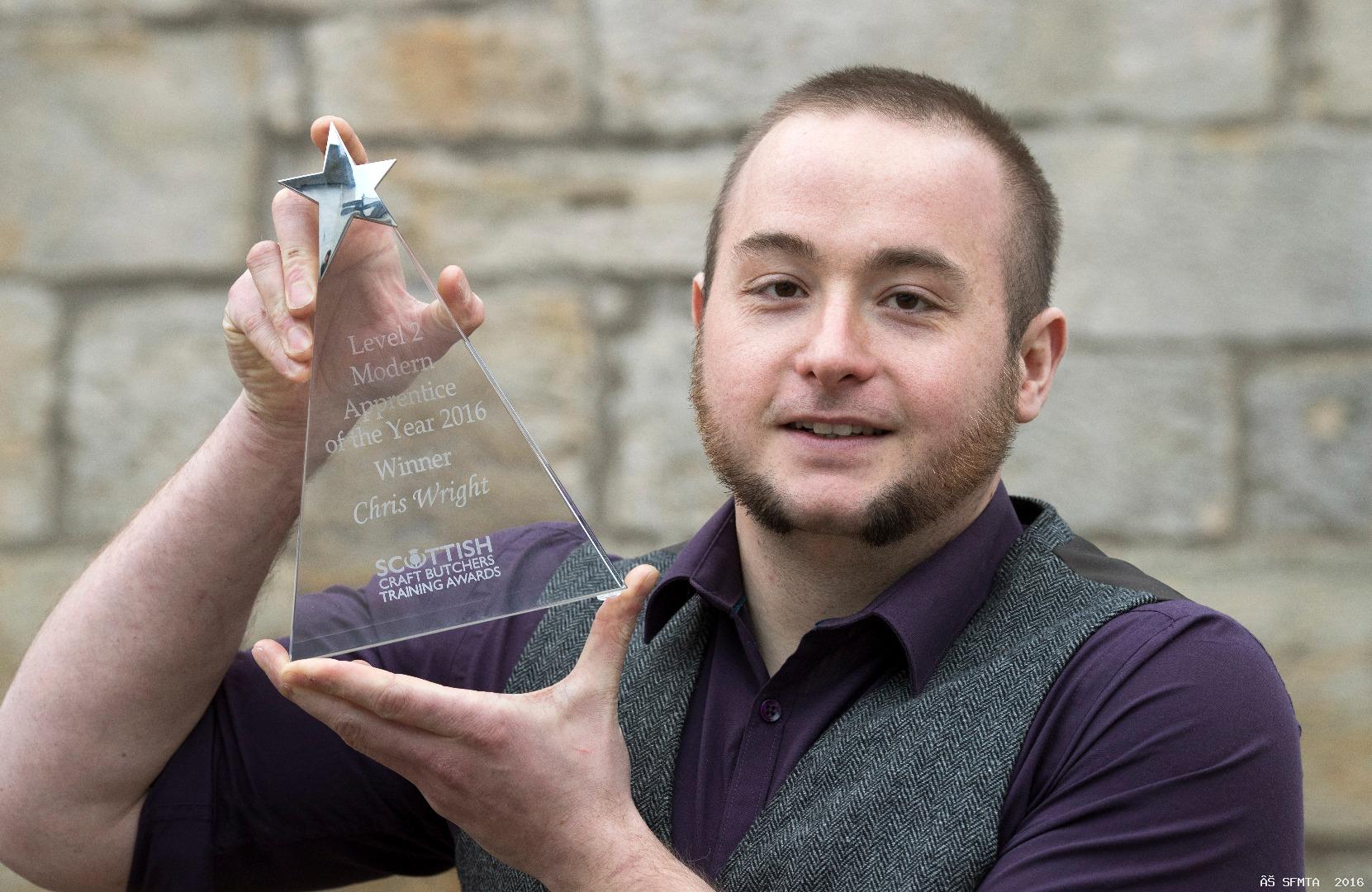 Chris worked through his Level two MA in rapid time, always striving to get the most out of it whilst putting everything into it.

As soon as he had completed this, he was dead keen to get straight onto his Craftsman Certificate which again he completed in double quick time.

This then led onto his Level three which he is currently working on. The standard of work produced is fantastic. He looks at the business with a critical eye and has highlighted some fantastic points which, with the encouragement of the management, he has put in place.

These have enhanced the business, making it more efficient and streamlined at a time in which the business has opened another branch and a steak restaurant. His ability to relate to others has led him to train new staff in the new procedures and products now being produced by the business and he has become a vital part of the Andersons brand.

Nominated by John Farquhar
Finalist: Ryan Briggs, A J Learmonth, 13 High Street, Jedburgh TD8 6AQ

Ryan`s approach to his SVQ level 2 Qualification was with enthusiasm and a determination to learn the skills required in his chosen profession.

Backed fully by his employer, Allan Learmonth, and his colleague Stewart Ramsay, Ryan demonstrated his abilities to manufacture sausages, serving customers/making up orders along with primal cutting, boning, seam cutting and trimming. Ryan displayed excellent knife skills working safely and hygienically at all stages of the qualification.

Ryan achieved his Essential Hygiene certificate and provided high quality evidence for the required core skills in his qualification.

Ryan has now progressed to SVQ level 3 applying the same enthusiasm which he did for SVQ level 2. Ryan also has the claim to fame of making the sliced sausage which was judged to be Scottish Champion at the recent awards.

Nominated by Gordon King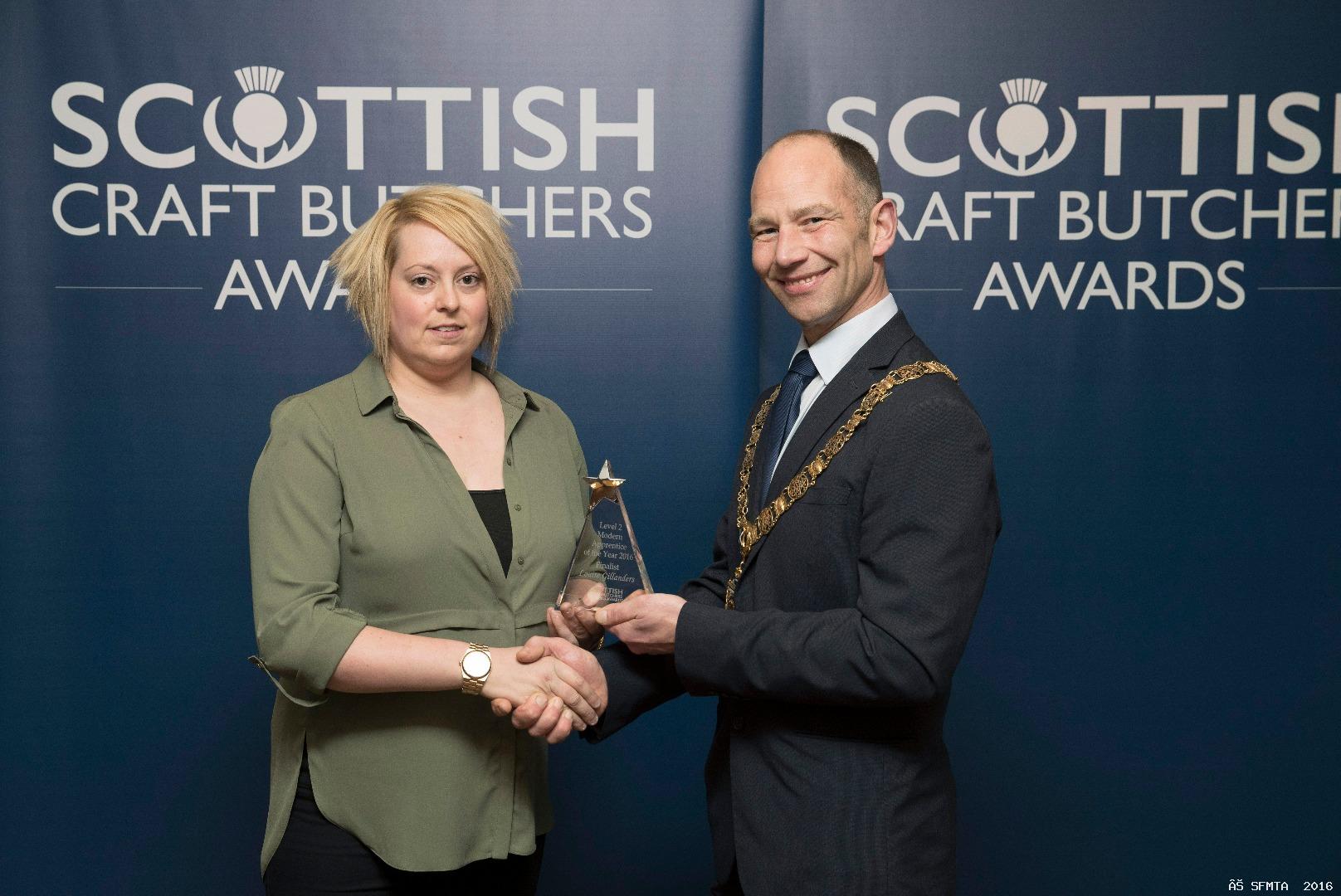 Finalist: Louise Gillanders, John Munro Ltd. 20 High Street, Dingwall IV15 9RU

Louise has always been involved in the sale of food in one way or another but was late in coming to butchery.

She started in John Munro, Dingwall shop as a counter assistant and is always cheery and helpful to all her customers. She expressed an interest in broadening her skills and was then taught how to make the sausages and burgers in the shop. However, Louise wanted to take it further and hounded the butchers to show her how to carry out butchery.

Her persistence paid off and she was soon breaking down lambs with the best of them. She continues to broaden her butchery skills now and shows great attention to detail and enthusiasm to learn more and more.

The work she carried out during her Level 2 MA was always of a high standard and usually completed well ahead of her assessment date.

She continues to show versatility, enthusiasm to learn and commitment to the business and I have no doubt that she will move onto her Level 3 Qualification in due course.

Nominated by John Farquhar


SQA –
Proud to sponsor the
Scottish Craft Butcher Training Awards

SQA and the Scottish Federation of Meat Traders Association (SFMTA) have been working together for over 10 years, to develop qualifications that provide the meat industry with the relevant skills and knowledge.






views: 2,935