2014 ROYAL HIGHLAND SHOW
Friday, 20th Jun 2014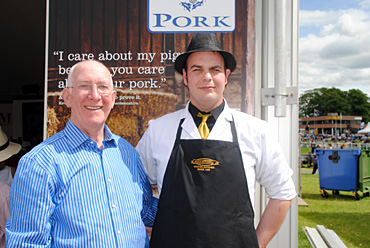 Visitors to the QMS stand at this years Royal Highland Show were treated to the now customary and ever popular butchery demonstrations but Friday's audience were a little taken aback when they were told that they had probably previously seen the lamb that was being cut.


The lamb was a New Zealand Suffolk crossed Texel that had turned out at 19.8 kilos but had been born in the BBC television programme, Lambing Live.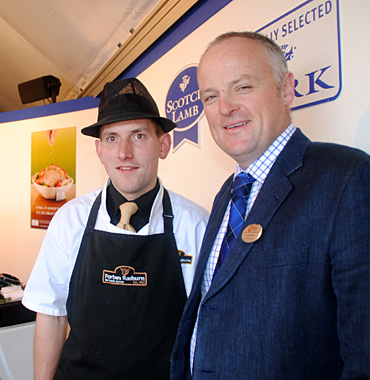 The lamb that was reared by farmer John Scott on Fearn Farm in Easter Ross was supplied to Raeburns via John M Munro in Dingwall.

A display of Scotch Lamb was prepared by Gary showing both traditional and modern cutting techniques. On the Thursday of the show, Jamie Syme from Alex Mitchell's butchers in Glenrothes cut and displayed a Popeseye and a Loin of Pork. On the Saturday John Davidson of Davidsons Specialist Butchers in Inverurie cut a middle of pork and a fore rib of Scotch Beef.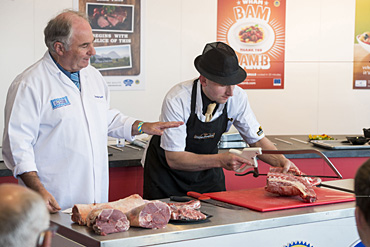 Douglas Scott provided a commentary to the cutting demos and he was accompanied by compere Cat Cubie, formerly weather girl on BBC Scotland.

All six demos were well attended and yet again the public displayed their great interest in seeing meat being cut up and understanding the different cuts and their qualities.


The QMS stand was especially vibrant this year with the presentation to the three finalists in the burger competition for schoolchildren. For the announcement of the winning school, the stand was the busiest it has ever been in the last ten years.

Another major attraction to the stand was the appearance and question and answer session with the Dyke family from near West Linton. They featured on Lambing Live and told the story of what it was like living for weeks with a 65 strong television crew on their doorstep.






Elsewhere at the show Steve Mitchell of Auchtertool was selling his buffalo burgers and in the food hall Grants of Speyside had a presence selling manufactured products. Corporate members, Walkers Shortbread and Mrs Bridges had stands and renowned Federation sponsors Grampian Oat Products were also in the Foodhall.






views: 2,534