2010 ROYAL HIGHLAND SHOW
Friday, 25th Jun 2010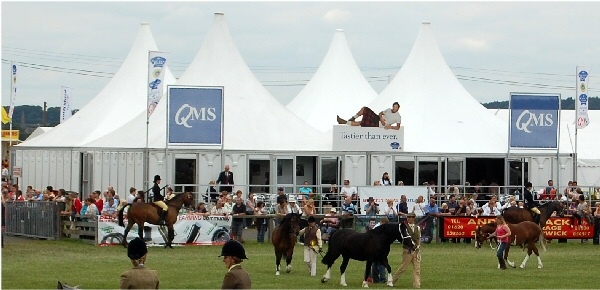 Celebrating the skill and artistry of Scotland's best young butchers, butchery demonstrations made a welcome return to the QMS stand. The demonstration of the skill involved in creating the eye-catching displays in butchers' chill cabinets was yet again a great success after QMS enlisted some of Scotland's best butchers to come and impress the crowds. Butchers involved on the stand during the RHS were:-

Thursday - John Harvey from Hugh Black & Sons
Friday - Gary Raeburn from Forbes Raeburn & Sons in Huntly
Saturday - Stewart McClymont from Bennetts in Dunblane
Sunday - George Jarron from Scott Brothers in Dundee
The Butchery demonstrations preceded cookery demos from foodwriter Lady Claire MacDonald and Nigel Bardon.

John Harvey displayed a side of lamb in traditional cuts and then gave two demonstrations of how to create innovation kitchen ready products that suit the more convenience conscious modern consumer.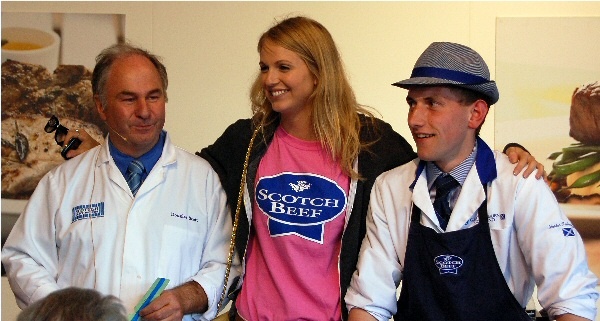 Former Scottish Young Butcher of the Year, Gary Raeburn intrigued spellbound audiences cutting up a bone in Sirloin and Rib Eye to explain all the different steaks and roasts that can be cut from this part of a side of beef.

One of the sirloins came from a Limousin Cross that he had bought at Huntly Mart and finished himself on his grandfather's farm.

Gary Raeburn was rewarded for his great demonstration with a kiss from reigning Miss UK, Katherine Brown from Dunblane.










views: 1,777