2008 WORLD SCOTCH PIE CHAMPIONSHIP
Thursday, 29th Nov 2007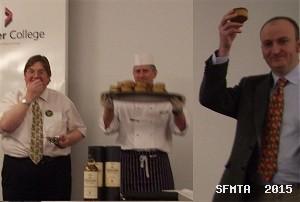 The 2008 World Scotch Pie Champion is Amos Smith of WF Stark, 9 College Street, Buckhaven.

Laurent Vernet, Marketing Manager at Quality Meat Scotland presented Amos with the famous trophy at the presentation lunch on Thursday 29th November at Lauder College, Dunfermline.

Amos succeeds his former employer, Stuarts of Buckhaven as the holder of the top prize and is the fourth butcher to win the competition that is now in its ninth year.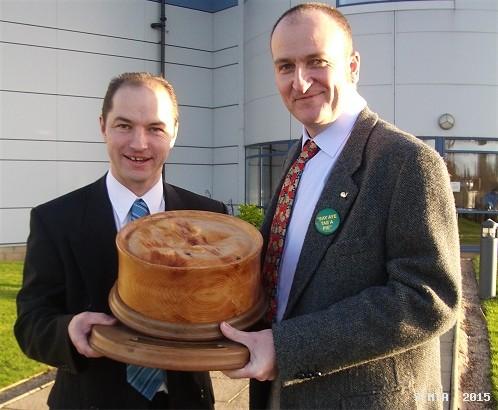 Butchers picked up the top awards with Murdoch Brothers in Forres, and Boghall Butchers lifting the two runners up prizes. In the Bridie Category Stuarts of Buckhaven won the Diamond Award and in the Speciality Pastry category the runners up awards went to Bruce of the Broch for Chicken and Mealie Pie and to Grossetts of Tayside for their Lamb and Ginger Pie. Prizes won by SFMTA members:-
SCOTCH PIE
World Champion
..
WF Stark, 9 College Street, Buckhaven
Gold and 1st Runner Up
Murdoch Brothers, 10-12 High Street, Forres
Gold and 2nd Runner Up
Boghall Butchers, 65 Margaret Street, Boghall
Gold
S Collins & Son, 7 Lindsaybeg Road, Muirhead
Silver
Bruce of the Broch, Broad Street, Fraserburgh
Bronze
Stuarts of Buckhaven, 8-12 College St, Buckhaven
..
BRIDIES
Diamond
Stuarts of Buckhaven, 8-12 College St, Buckhaven
Gold
Grossetts of Tayside, Arbroath Road, Dundee
Silver
Davidson Specialist Butchers, Burn Lane, Inverurie

Alan Stuart, the principal of the Scotch Pie Club, described the tremendous variety of wonderful products in the Speciality category - everything from fish, venison, lamb, beef, pork, vegetarian pies - products that will tempt new lines and encouraged butchers and bakers to keep up the innovation.

SPECIALITY PASTRY PRODUCTS
Gold and 1st Runner Up
Bruce of the Broch, Broad Street, Fraserburgh
Chicken & Mealie Pie
Gold and 2nd Runner Up
Grossetts of Tayside, Arbroath Road, Dundee
Lamb & Ginger Pie
Silver
Davidson Specialist Butchers, Burn Lane, Inverurie
Pork Pie with Chicken and Ham
Silver
Murdoch Brothers, 10-12 High Street, Forres
Chicken and Ham Pie
Bronze
Boghall Butchers, 65 Margaret Street, Boghall
Poached Sole Veronique Pie
Bronze
F Ballard, 152 King Street, Castle Douglas
Chicken and Mushroom Bake
Bronze
Boghall Butchers, 65 Margaret Street, Boghall
Duck, Orange and Cranberry Pie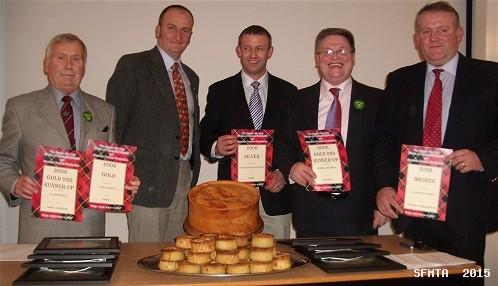 Pictured at the awards: Gilbert Grossett (Dundee), Laurent Vernet, John Davidson (Inverurie), Paul Boyle (Boghall), Jim Craig (Castle Douglas)

After receiving an invitation to the awards lunch, Amos Smith knew that he was in line for a prize but as a first time entrant he never expected to lift the top award:-

"I thought I was coming to collect something in the Speciality category for my Pork, Cheese and Chive Sausage Roll. I love creating new products and trying things.

"To win the big one is certainly a shock to me. I have only been a year and a half in the butcher's shop that I now own. I altered the last owner's recipe to my own taste, I think I got it right for my taste but obviously the judges thought it was good. I still can't believe it!"

Amos knew that he was the only prize-winner in the room still to collect his award after the final gold award was announced. Either his invitation was a mistake or he was there to collect the title. He addressed the audience clutching the award:-

"It is really very awkward being up here. Mr Alan (Stuart) is my old boss and I can only say thanks. I learned so much off his company and I really appreciate being here. It is such a mixture of people that have learned from."

Speaking after all the photographs were taken Amos paid tribute to his manager while employed at Stuarts, someone who is now in direct competition to him:-

"I have a lot of respect for my mentor Derek McMahon, he is talented and creative. He has given me healthy competition. That's what business is all about, healthy competition to move us forward and develop things. It helps to increase the standard of your product as well.

"The most important thing I have found in the last year and a half is listening to my customers."

They have certainly fed back the touches that have elevated Amos to be the 'Pie King of the World' but he reckons that his customers quest for value for money has focussed his attentions:-

"It goes down to money as well. If they have two pounds in their pocket you cannot aim at two pounds 50p. You have to be creative and make the product nice and tasty, good quality and not too much fat.

"Fat is important because it gives flavour but getting the right balance is another thing because you have to think about waistlines nowadays."

Amos who is 40, served his time at RT Stuart and worked as a relief manager for a supermarket before coming back to be butchery manager at the Stuarts, Buckhaven shop just along the road from the shop he now owns trading as WF Stark.

By Amos's own description it is only a small business selling under 100 scotch pies per week. That is about to change dramatically if the performance of previous winners is followed.

Two full time and two part time members of staff might find that they will need extra hands and Amos suddenly realised that he would have to get on the phone smartly to his pie shell supplier, William Sword.

"I find that they are good with the product, they are very polite and if you have a problem they are wiling to listen. They are a good company to work with."

In the pie shells Amos uses Scotch Beef matured and supplied by St Andrews Wholesale Meat Co., salt, pepper and a little rusks all mixed up with that little magic.

"I inherited the recipe; it was a similar recipe to the one I had from an old traditional butcher, Mitchells in Ceres.� I served two years in there and learned a lot."



views: 2,132