2007 NATIONAL BARBECUE CHAMPIONSHIPS
Monday, 4th Jun 2007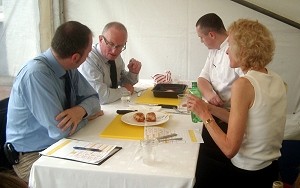 The Guild of Q Butchers 2007 National Barbecue Championships, sponsored by The Scotch Butchers Club, was held for the first time in Scotland at the Marriott Edinburgh Hotel on Sunday, June 3. The Scotch Butchers Club is run by Quality Meat Scotland, the red meat industry body for Scotland.

Quality and innovation was very much in evidence in Edinburgh when 15 teams, representing around 50 individual butchers from as far afield as the Midlands and the South of England, vied for individual product and team championships.

This is the sixth annual staging of the championships – first held in 2002 - with each of the Guild's.seven regions taking it in turn to organise the event.

Above: the barbecue products from Crombies of Edinburgh.

A panel of judges headed by television presenter and food writer Clarissa Dickson-Wright assessed the products, both in the raw state for presentation purposes and as they sizzle on the barbecue. Other judges include former BBC Masterchef Sue Lawrence, retired Q butcher Charles McHardy, Stefan Wright, Executive Sous Chef at the Edinburgh Marriott and Laurent Vernet, Head of Marketing, Quality Meat Scotland representing The Scotch Butchers Club.

There were six categories of product - beef, lamb, pork, chicken, sausage and burger. The Q barbecue championships, again produced some innovative ideas which will be shared among Guild members and go on sale in Q shops throughout Britain – literally from Shetland to Cornwall.

Sandy Crombie of Crombies of Edinburgh, Chairman of the Guild's Scottish Region, is the man in charge:

"We had almost 100 products forward for judging. The flair and imagination of our members ensured some real sizzlers - barbecue products with a difference!"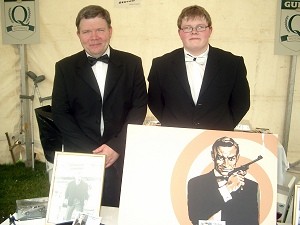 Jim Patrick from Patricks of Camelon with son, Jim - "Shaken not Stirred"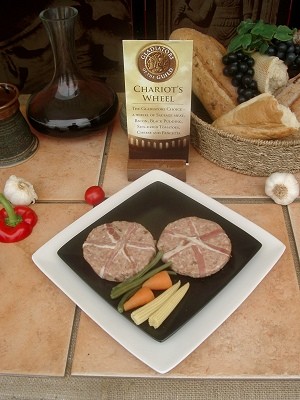 Allan Bennett of the Midlands team, Gladiators of the Guild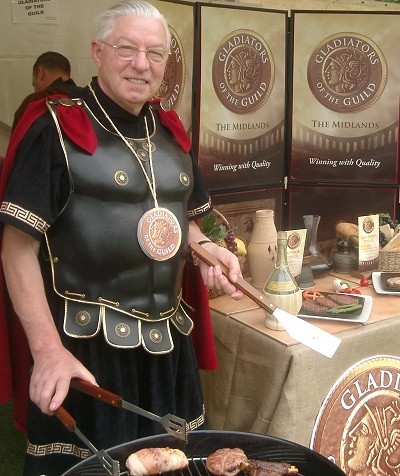 Main Results

Overall Supreme Product (sponsored by The Scotch Butchers Club with perpetual cup presented by The Worshipful Company of Butchers) –
Crombies of Edinburgh with Whirligigs Sausage

Most Innovative Product (sponsored by The Scotch Butchers Club with perpetual cup presented by Meat & Poultry News) –
Crombies of Edinburgh with Borders Lamb Mini Rib

Team Champions (sponsored by The Scotch Butchers Club) –
Crombies of Edinburgh

Best Beef Product (sponsored by The Scotch Butchers Club) -
Lishmans of Ilkley and Wilsons of Crossgates, Leeds, West Yorkshire with Flank Steak with Lemon Pepper Butter

Best Lamb Product (sponsored by The Scotch Butchers Club) –
Dennis of Bexley, Kent and Eastwoods of Berkhamsted, Hertfordshire with Stuffed Cutlet with Mint

Best Pork Product (sponsored by The Scotch Butchers Club) –
Patricks of Camelon, Falkirk with Goldfinger Pork

Best Sausage (sponsored by the The Scotch Butchers Club) -
Crombies of Edinburgh with Whirligigs Sausage 

Best Burger (sponsored by Lucas Ingredients) –
H G Walter, Barons Court, London with Lamb Burger with Mango, Mint and Ginger

Best Poultry Product (sponsored by Verstegen) –
Allan Bennett, Codsall, Wolverhampton and Walter Smith (Birmingham) Ltd with Caesar's Chicken

Best Themed Stand (sponsored by The Scotch Butchers Club) –
SCUK – Scottish Connection UK: Dennis of Bexley and Eastwoods of Berkhamsted

Best Region (sponsored by the Guild of Q Butchers) -
Dennis of Bexley, Eastwoods of Berkhamsted, H G Walter and C Lidgate, Holland Park, London.



views: 6,172